The bathroom is one of the most important rooms in the house, the most frequently used, and the second most important room to home buyers. However, it is easy for homeowners to overlook this space when it's time to renovate or update because the task seems daunting. But updating the bathroom is a worthwhile investment that not only adds value to your home but also increases the overall quality of your day-to-day life. If you are not sure if you really need to make a change, here are the top signs that it is time to update your bathroom:
10 Signs You Need to Update Your Bathroom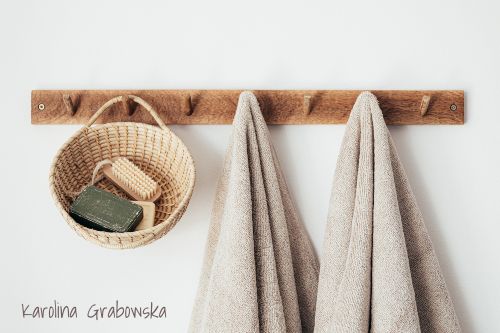 1. The bathroom has mold, obvious damage, leaks, smells.
If you happen to notice dark spots sprouting up in the corners, parts of the ceiling, directly above the bathtub, or shower, it's time to update your bathroom. Keep in mind that not all leaks/drips are visible, so make sure you look for mildew and mold near the edges and corners of your shower and bathtub – both on the inside and outside. Sometimes mildew and mold problems can arise from minor issues like drips, leaks, faulty pipes, not closing the shower curtain or door completely, or improper ventilation which can be easily fixed by doing some minor repairs. When the water continuously drips onto the floor just outside the shower, you're going to get dry rot which will lead to major problems – think costly repairs – if not addressed.
I had a client who purchased a house, lived in it and never addressed the leaking tub. The water went into the crawl space so he didn't think much of it. It wasn't an obvious problem to him, so he ignored it. When he went to sell the house 10 years later, we got a contractor to take a look at some possible upgrading for the sale, he said the seller is lucky he didn't fall through the floor. Filling up the bathtub and then getting into it for a nice, relaxing soak could have led to him getting seriously injured.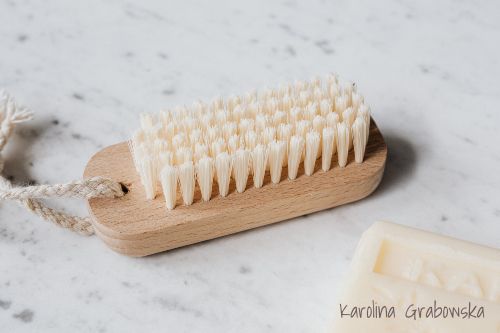 2. Lingering odors and heavy humidity.
If your bathroom doesn't pass the sniff test, or if it regularly feels like a sauna, you're either not opening the window enough or the exhaust fan may not be functioning properly. Every bath should have an efficient way to eliminate odors and humidity. You have to get that humidity out of there or it will cause issues. Your bathroom shouldn't feel like the rainforest.
3. Leaky faucets, toilets that run, mysterious sounds of water running, or unexplained high water bills.
Like I mentioned above, not all leaks are visible. Water can be troublesome if it drips, leaks, or causes unsightly buildup. Fittings loosen or break, and leaks can be hidden inside walls, floors and crawl spaces. A periodic professional pest and organism inspection and diagnosis is a good idea and can often prevent major damage.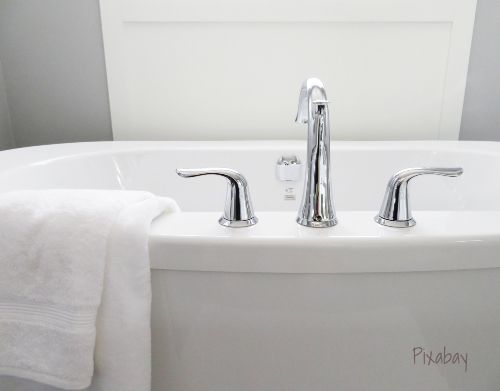 4. There are cracks, chips, stains or broken glass in the bathroom.
The bathroom – obviously – is one of the most frequently used rooms in the house; it gets a lot of wear and tear. This means that the shower tiles, sink faucets, light fixtures, and ceiling fans are all in frequent us; therefore, when they start breaking down, it is time to consider updating your bathroom.
If the ceiling starts crumbling, you notice discolored tile grout, the mirror is broken, or there's cracked linoleum or tile floor, consider how you can repair the damaged materials while updating your bathroom at the same time.
Seemingly minor problems can lead to, and be signs of, water leaks, mold and mildew growth, corrosion, and structural damage. Ignoring such warning signs will aggravate the problems and will be very costly to repair later.
5. It's no longer big enough or the layout is no longer functional.
If your family has grown the bathroom and it feels cramped, it is time to consider updating the current space with new features that optimize the function and storage. I know there isn't a lot of room in the Linda Mar rancher bathrooms; but there are more streamlined toilets, sinks – or maybe turning the shower/tub into a shower only would be a good alternative to give you some more room.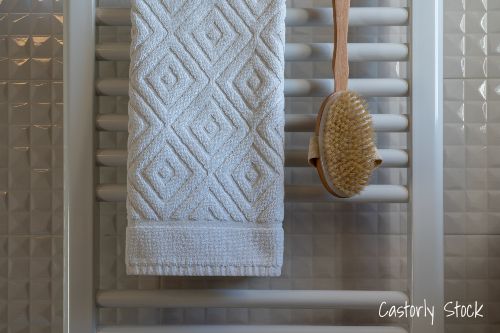 6. The bathroom is out of date or has an unattractive design or layout, you may need to update your bathroom.
Design trends come and go. And then come back again. But if you're seeing your bathroom style comes back around again, it's time to remodel. Your bathroom might have been a knockout in its day but after all these years, it hasn't aged well. If you have a pink bathtub, avocado floors, a brightly colored toilet, or gold fixtures, it's definitely time to update your bathroom. These are simply out of style and can keep you from getting the most money possible for your house during a sale. Also, an outdated bathroom might actually be hiding a number of unseen problems which need to be addressed.
If a complete redo is out of the question, you can make simple fixes like new light fixtures and hardware which will make a huge difference in the look and appeal.
7. Poor lighting.
Bad lighting in the bathroom is a common problem in older homes. Often small bathrooms have poor or limited natural lighting because the window is small or nonexistent. Older-style bathrooms often just have a single incandescent bulb in the center of the room or above the mirror. Those light bulb "bars" are out of style as-is but there are plenty of options to upgrade them on the cheap, without actually replacing the whole unit.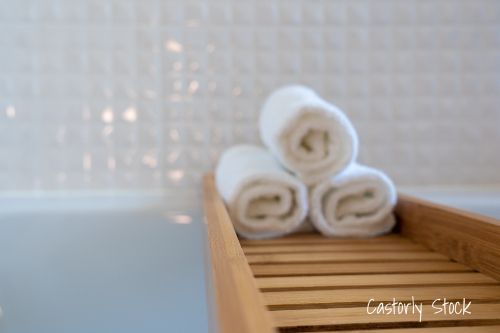 8. Low on storage.
Older homes often have very little storage space in the bathroom. You might have a small closet, a tiny storage area below the sink, or just some storage behind the mirror. There are a variety of ways to add more storage in a bathroom. Add a storage closet or install shelving. You can move the towel rack and use that space for a shelf or other storage. You might consider putting shelving over the toilet or hanging a storage unit over the back of the door.
9. You are looking to sell your house soon.
If you're contemplating selling your home in the near future, you should look at whether or not you need to update your bathroom. You can make the whole house look better by doing a simple upgrade of the bathroom. When the bathroom is updated, it can be a major selling point, and might even position your house for a much quicker sale.
Your bathroom should have a modern design to appeal to today's buyers. You don't want your bathroom to look like it was designed when the home was constructed; it makes buyers wonder how well you've maintained the whole house. You need to make sure the faucets and toilets are updated, and you have a shower head that is modern looking. If your bathroom has carpet, it's a dead giveaway that the room needs upgrading.
10. The bathroom is too taste-specific.
It's fine to have quirky and eccentric tastes and to display those preferences as you decorate your home. However, if the reason behind your bathroom makeover is an intent to sell, you'll want to neutralize the bathroom. When selling a home, you want to appeal to the most buyers as possible, and not everyone is going to like nautical wallpaper and a pink clamshell sink.
You should consider updating your bathroom by using neutral colors on the bathroom walls and then accenting with a color. Some other simple, inexpensive tricks can include swapping your outdated flooring, fixtures, lighting, or handles.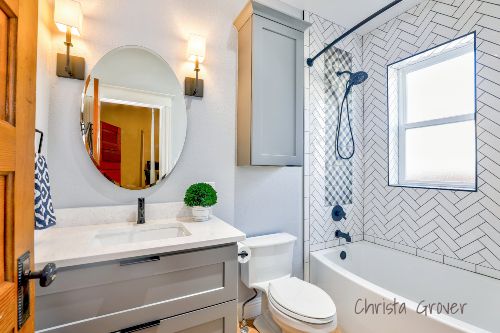 8 Affordable ways to update your bathroom
The cost of a complete bathroom remodel gets expensive quickly. If you're not up to the mess or spending the money, there are plenty of things you can do to get quick, less expensive results. Doing all of these or just a few might be all you need.
1. Update your cabinet hardware.
Changing out the vanity drawer pulls and knobs is a task that will take just a few minutes and a screwdriver, but it has a big and noticeable impact. It's those small decor details that home buyers notice and point out to each other.
2. Update towel bars, hooks, and toilet paper holders in the same finish.
All of your new hardware should be the same metal; brushed nickel is the most appealing and easiest to find complementary pieces.
3. Change out the sink and tub faucets and showerhead.
Coordinate the faucets and showerhead. Updating your faucet with a new low-flow model is a relatively inexpensive way to cut water consumption while adding a refreshed look to your sink area. A new showerhead will add a nice touch to your overall bathroom design while making your showering experience more enjoyable. And they don't have to be expensive to make a great first impression.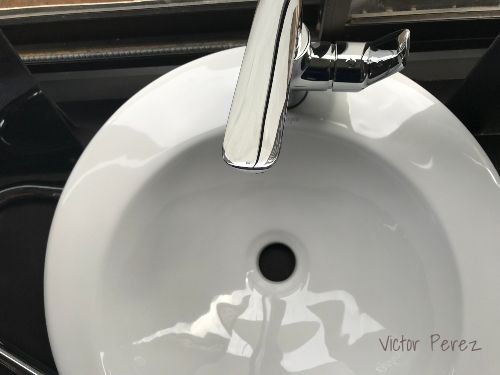 4. Light fixture redo.
If putting in a completely new light fixture is out of the question, there are a lot of ways to update yours without getting electrocuted. Although a new fixture will completely change the feel of the bathroom.
5. New paint.
The post wouldn't be complete if I didn't mention new paint. Color is the key to any room's personality, so choose something that's neutral and light to make it most flexible to appeal to every buyer. Paint is the least expensive way to make the biggest difference in any room, especially a bathroom. And you could probably do it yourself or hire someone for not a lot of money.
6. Update the bath fan.
When buyers are coming to view the house, all the lights are going to be on. If that fan makes a racket, definitely change it out. It's going to get turned on with the light. If it's metal and rusty – that's another good reason to change it.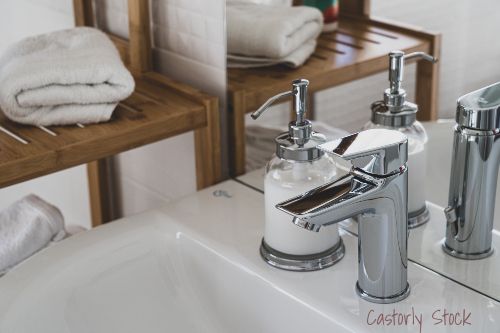 7. Replace the vanity, countertop, and sink.
Replacing the vanity will upgrade the look of the bathroom, create more storage and become the new feature of the room.
8. Replace the toilet seat.
Yes, just replacing the seat is an option. A new sleek toilet seat that doesn't slam when you close it or have make-up stains on the top of it will refresh your space. And they're easy to install.
---
The above real estate information, 10 Signs Your Bathroom Needs an Update and 8 Affordable Ways to do it was written by Vicki Moore, Pacifica Realtor.
You can contact me via phone/text at 650-888-9268 or via email.
I have helped people in the San Mateo County | Silicon Valley market since 1998. I specialize in my hometown of Pacifica.
Are you thinking of selling your home? I have a passion for real estate and would love to talk to you about how I can help you.
I provide real estate services in San Mateo County, CA which includes the coast: Pacifica, Montara, Moss Beach, El Granada, Half Moon Bay and the Peninsula in Burlingame, San Mateo, Foster City, Belmont, San Carlos, and Redwood City.