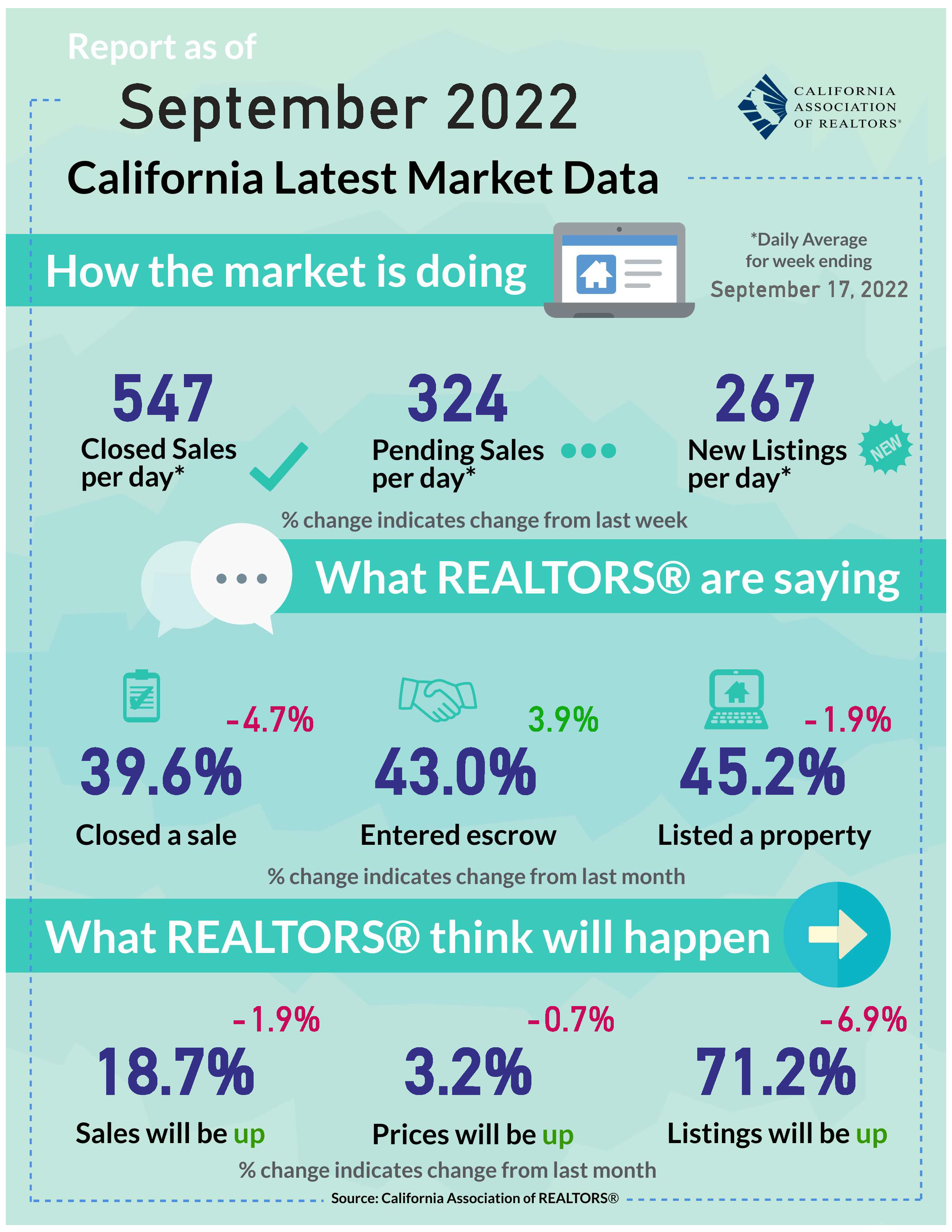 California Association of Realtors Reports
Economy Continues to Move Forward
Several encouraging indicators were released last week that suggest the economy
continues to move forward despite the challenges. The growth is continuing but it is downshifting.
The Fed is expected to raise rates tomorrow
The Fed is increasing rates to try to get inflation under control.  We can expect that the Federal Open Market Committee will certainly raise rates tomorrow because consumers have not yet reduced spending on core goods. Real retail sales rose 2.1% in August.
Retail sales rise above inflation as consumers keep spending. 
Americans increased spending at stores
and restaurants last month shows persistent demand despite rising prices.
Most of the recent gains in nominal retail sales is the result of higher consumer prices. Real spending
has fallen in the 3 consecutive months preceding August's slight gain.
Looking ahead, savings rates are
dwindling, and rising consumer credit suggest that we could see more moderation from this important
engine of growth as we enter 2023.
August Home Sales
The monthly increase in closed and pending home sales suggests that the market may have already priced in most of the rate increases to date.
California home sales perked back up in August above 300,000 units as rates lowered in July and early August. But affordability will
continue to be a problem as rates begin rising again.
Buyers will continue to grapple with rising costs of borrowing, which will keep
home sales below 350,000 for the remainder of the year.
Lower Gas Prices
Core inflation is still running hot despite lower gas prices.
Consumer prices in August grew just 0.1% from July, helping the headline inflation dip to 8.3% above last year. This number includes gas prices
sliding 10.6% from the previous month.
Core Inflation
Core inflation, which is used by the Fed because it excludes
more volatile energy and food prices, advanced by another 0.6% in August pushing the year-over-year pace upwards to 6.3%. This is more than triple the Fed's 2% inflation target.  Another reason the Fed is likely to continue to push its aggressive policy stance at its meeting tomorrow.
Mortgage Rates
Mortgage rates surpass 6% mark for first time since 2008.
After easing slightly through July and August, mortgage rates jumped significantly higher last week. 
The 30-year fixed-rate mortgage averaged 6.02% as of September 15 according to Freddie Mac's weekly survey. That is more than 316 basis points higher than what it was a year ago at this time when it averaged 2.86% – more than double.
The most recent decline in mortgage applications continues to show that the increase in rates will weigh on homebuyer demand. And this will continue in coming months.
Labor Market
Signs of labor market slack begin to emerge.
Although nonfarm payrolls grew modestly in 37 states during August, several states in the nation reported net losses.
California was one of the states that continued to expand as employers report adding nearly 20K net new jobs in August across most major
industries.
However, this increase was significantly lower than the 91.4K jobs added in July. Most of the pullback was reported in manufacturing, construction, and information.
The monthly household survey gives a slight contraction in employment combined with a rebound of 32.4K workers re-entering the labor force. The state's unemployment rate from 3.9% to 4.1% in August. The first increase in California's unemployment rate since June 2021.
Summary
As long as we continue to spend, the Fed is going to push hard in its efforts to slow inflation by increasing interest rates. The increase in consumer credit is a sign that the increased prices are a problem. Be careful with your credit cards. The rates are going to continue to go up which means you'll be paying much more for those items you bought than you initially anticipated – even with inflation in mind.
---
Welcome to the Pacifica Locals Real Estate Blog! This real estate website, as the name suggests, is all about generating the dominating the online exposure that your home deserves.
Vicki Moore of Compass has been working in the local market since 1998. She is a veteran to the real estate industry with expertise in technology, marketing, and social media.
If you are thinking of selling a home, condo or other real estate in the following towns: Pacifica, Half Moon Bay, Moss Beach, Montara, El Granda, San Mateo, South San Francisco, Daly City, Belmont, San Carlos, Burlingame, Millbrae, Hillsborough, Foster City, Redwood City, and Redwood Shores there are thousands of Realtors to choose from.
We would welcome the opportunity to show you how we get outstanding real estate results. If you are looking for a real estate agent who will make a difference you have come to the right place.