In 2018, Proposition 5 went before the California voters and failed. I knew it was going to fail the first time I saw a commercial with firefighters claiming it would harm them. You can't win against firefighters. Consequently, a few brilliant people got everybody on the same side by including wildfire victims. As a result of rewriting it, it immediately passed.  Proposition 5, turned it into Proposition 19.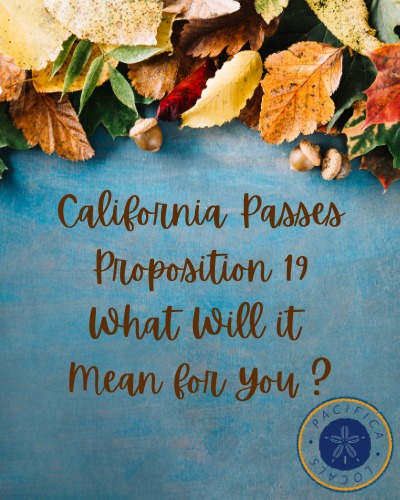 California Proposition 5 (2018)
In summary, Proposition 5 stated: A "yes" vote supported amending Proposition 13 (1978).   It would allow homebuyers who are age 55 or older or severely disabled to transfer their tax assessments.  There may be a possible adjustment, from their prior home to their new home.  But the new home's market value or the new home's location didn't matter.  Additionally, the number of moves a buyer makes doesn't affect it.
The opponents argued that it "will actually put the services millions of seniors rely on at risk. Voters have already changed the California Constitution to protect seniors and people with disabilities from higher property taxes and allow people who lose their homes in a natural disaster to rebuild without a tax penalty."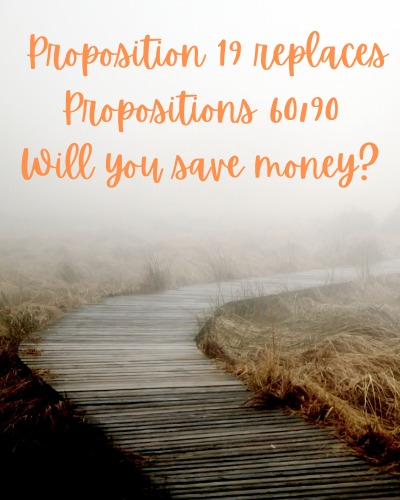 California Proposition 60, Property Tax Assessments for Older Homeowners (1986)
California Proposition 60 was approved in 1986.
Proposition 60 provided a special method of establishing assessed value for replacement residential property by a homeowner over 55. It allowed homeowners over 55 to transfer the assessed value of their present home to a replacement home, if the replacement home was located in the same county.
To qualify, the replacement home had to be:
The owner's principal residence;
Of equal or lesser value than the original property;
Located within the same county; and
Purchased or newly constructed within two years of the sale of the current home.
California Proposition 90, Assessed Valuation of Replacement Dwellings (1988)
Subsequently, it was basically useless for San Mateo County homeowners.  Because the value of homes increased so rapidly that purchasing a home of equal or lesser value wasn't possible.  When Proposition 90 added volunteering counties that helped.
Proposition 90 allowed qualified homeowners age 55 or older to transfer the current assessed value of their original home to a replacement residence in another county, but only if the county in which the replacement home participated in the program.
County participation was voluntary.  Unfortunately, not many volunteered. In 1990, 12 counties participated. As of now, 10 counties are listed as participating on the California State Board of Equalization website. As a reference, there are 58 counties in California.
Propositions 60/90
Propositions 60/90 worked in conjunction.  Proposition 60's authorized homeowners over the age of 55 to transfer the assessed value of their present home to a replacement home.  Instead of just the county the homeowner lived in, Proposition 90 added participating counties.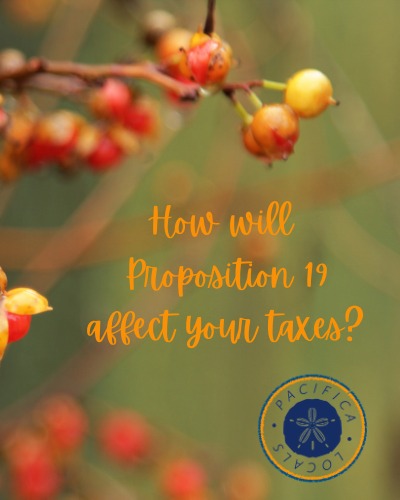 California Proposition 19, Property Tax Transfers, Exemptions, and Revenue for Wildfire Agencies and Counties Amendment (2020)
California Proposition 19 made everybody a winner:
Prop 19 allows eligible homeowners to transfer their tax assessments anywhere within the state.  And it allows the tax assessments to be transferred to a more expensive home (with an upward adjustment). In order to be eligible, you must: be over 55 years old, have severe disabilities, or be a victim of a natural disaster or hazardous waste contamination.
Increases the number of times that persons over 55 years old or with severe disabilities can transfer their tax assessments from one to three.
Any savings from the ballot measure must be directed to wildfire agencies and counties.
Well, almost everybody.  Now inherited homes must be a principal residence to take advantage of this.  The property has to be reassessed at market value if it's not used as a principal residence.  That would include second homes or rental properties.
How much will Proposition 19 really help?
How much Proposition 19 will really help remains to be seen. This new law didn't change the fact that homeowners have a ginormous capital gains tax to pay upon sale. I'm not a tax expert so I can't give any advice but I'll direct you to the Nerd Wallet's post 2020 Capital Gains Tax Rates — and How to Calculate Your Bill.
Just ignore the statement in the article that says: Capital gains taxes can apply on investments, such as stocks or bonds, real estate (though usually not your home), cars, boats and other tangible items. Remember, you live in California.
Selling your home could create a significant tax consequence.  For that reason, if you're thinking about it, your first stop should be at your tax person's office.   You'll be more informed, have a better idea of your net and can make more educated decisions for your next move.
---
Vicki Moore, Pacifica Realtor, wrote California Passes Proposition 19.
You can contact me via phone/text at 650-888-9268 or via email.
I specialize in my hometown of Pacifica, however, I have helped people in the San Mateo County | Silicon Valley market since 1998.
Are you thinking of selling your home? I have a passion for real estate and would love to talk to you about how I might be able to help you.
I provide real estate services in San Mateo County, CA which includes the coast: Pacifica, Montara, Moss Beach, El Granada, Half Moon Bay and the Peninsula in Burlingame, San Mateo, Foster City, Belmont, San Carlos, and Redwood City.
List View

Map View

Grid View
See all Real estate matching your search.
(all data current as of 6/30/2022)
Listing information deemed reliable but not guaranteed. Read full disclaimer.