10 Tips to Make it a Little Easier
Vicki Moore Pacifica CA Realtor
In real estate sales, one of the most common reasons houses are sold is because the owner passes away. As we get older, we become responsible for the people that go before us – and their belongings. Sometimes it's easier to pack it all in boxes and take it home, put it in the garage and deal with it later. Except that later never comes and your family members not only have your stuff to cope with when you're gone but all those boxes you brought home years ago.
My parents dragged me to garage sales, flea markets and antique stores as a kid. Now I know what has value and what doesn't. I'm not talking about sentimental value – only a family can determine that. I'm talking about things that are valuable to a buyer.
When I work with family members who are selling a house for their deceased loved one, I offer a couple of options. Once all of the important items have been claimed by the family, they can continue the process and take care of disposing all of the remaining belongings in their own way and let me know when the house is ready to put on the market. Or they can give me the keys and be done. I'll take care of everything, keep them informed all along the way, and they don't have to feel overwhelmed because they don't know what to do with all that stuff or they live out of state and they can't deal with all of the stuff.
Recently my client gave me the keys and said, "I've had enough." She had done as much as she could and was exhausted having been working full time and then spending every weekend cleaning out the house. Her family had owned the house for 40+ years. It was full of wonderful memories and a lot of items that held no significance for her. It's really hard to make the decision to throw things away but what else can you do?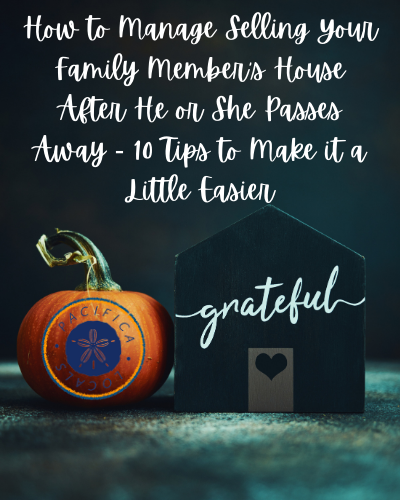 10 tips to make cleaning out your relative's house a little easier
Well, I have a process that I've worked out over the years to make sure as much as possible stays out of the landfill. If you're going to manage the remaining belongings yourself, here are 10 tips to make it a little easier:
1. Get organized and come up with a plan
Whether the occupant of the house was elderly and owned the house for many years, a hoarder or just collected a lot of things, the first thing you'll need to do is to get organized. Go in each room, take a look around, assess what's in there. If the house is full of belongings you're not going to remember what you saw. Take notes and/or pictures.
Then take some time to think about where to start. Some people will start with one room at a time. Others will gather all similar items together. For example, put all the clothes together in one place. Whatever works best for you, try to have a plan beforehand to keep you from getting overwhelmed – and when you do, it's time to take a break.
2. Don't trash medications
Call your local pharmacy to find out where you can drop off old prescriptions. One less toxin in the dump.
We collect bags of bags. Do you have a stash of grocery bags at home just in case? I do! Well, use those bags for getting organized.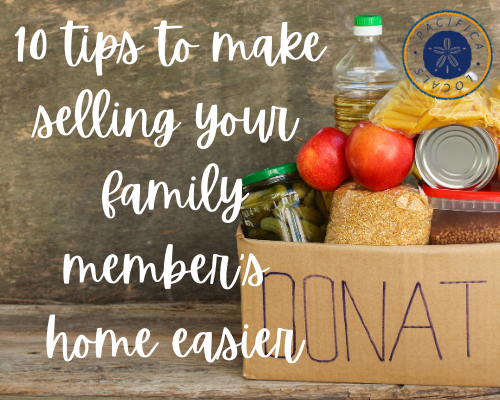 3. Food
This is an easy one. We're probably all conditioned to donate food. If you're not sure where the local food collection site is or senior center is located in your community, Google it! Be sure to check the dates on everything before taking it home or giving it away.
4. Recycle everything possible
Another thing we've been conditioned to do is recycle everything possible. I just roll the can up to the door and toss everything recyclable in there.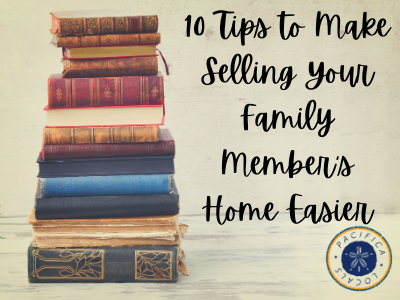 5. Don't throw anything away before you look inside
Whether it's a book, a jacket, or a couch, look inside. Not only do we lose things but we forget where we put them. Check the pockets of clothing, flip through the pages of books, look under and between the couch cushions.
When my father died, I was going through the boxes that had been left in the attic by my thieving family. They were too lazy to go up there and get the boxes down. There were all sorts of handwritten notes, strange letters that didn't mean anything to me, bills, and statements. As I went through, one piece of paper at a time, I found one that said something like, "thank you for opening your Ing account." I pulled that one out, put it aside and kept looking.
That Monday I called Ing bank and told them who I was, gave them the account number and asked how much was in the account, if anything. Of course, he wouldn't tell me. He couldn't divulge that kind of information no matter how many times I told him the situation. He explained what I had to do to claim the funds. The one question I was quick to think of was: Is it worth going through the process to get the money? He said, "Oh, yes, it is."
Okay. I mailed off one of the 15 originals of the death certificate I had purchased – I was down to a lot fewer than 15 by then. Every organization that you want something from needs an original – another tip: If you're the trustee get a lot more originals than you think you'll need. Then I waited. There ended up being $39,000 in that account. Now, eventually the bank would have found me – I hope. After a period of time goes by and they haven't had any contact from the account holder, no transactions have gone through, their calls and letters are not answered, they'll go in search of the person. Who knows how long that would have taken. So be sure to open everything and look to see what it is before you throw it away.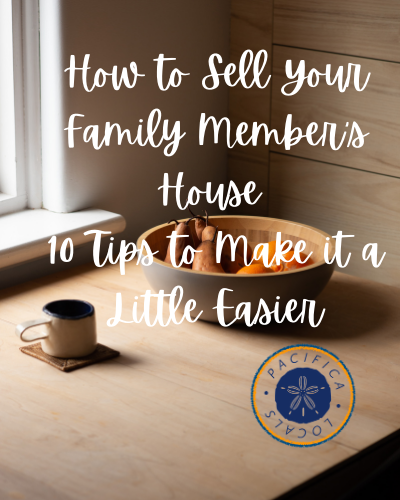 6. Blankets, towels, sheets
If you're packing for your next move or packing items to ship out to other family members, use the towels and blankets for packing delicate breakables. If not, call your local pet shelter. It's a real treat to walk in to the Humane Society with bags of blankets and towels. They're so appreciative. The last time I went, they thought I was leaving and said thank you. I was walking out to get more bags from the car! That simple donation really helps them cut costs.
Pet carriers, cages and supplies can also be donated.
7. More on donating
If you're donating a lot of things to one organization ask them if they want the small appliances for the cords – not the appliances themselves. I learned through our local SPCA that they wanted the small home appliances to drop off at the recycling center for the copper in the cords. Nobody wants your vacuum cleaner or your hair dryer. Donating them keeps them out of the landfill.
8. Google it
If something looks like it might have value but you're not sure, Google it. I can look at something and tell if it has value but I can't tell you how much value – prices and trends change. The important thing is not to get rid of that ugly table before you know what it's worth.
Recently I cleaned out a house in Burlingame, getting it ready to put on the market for rent. The family had chosen the things they wanted. What was left needed to be disposed. There was a coffee table that was pretty ugly – at least to them. It definitely wasn't my taste but for whatever reason it looked like it could be "something." I Googled my description; the colors, that it was a coffee table. It took me awhile but I actually found it. It was a Hollywood Regency coffee table retailing at about $3,000.
Just because it's ugly doesn't mean it's not valuable to somebody who will give you money for it. There are plenty of things that have value that you might think are hideous. There are consignment stores, estate sale companies, and antique dealers who will give you a valuation on items left in the house. Before you call the hauler, call one of them.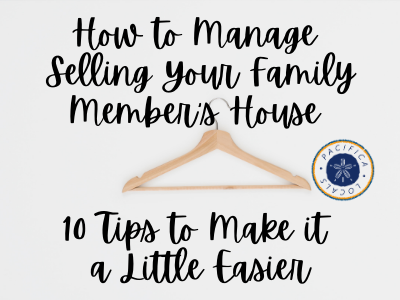 9. Call PARCA
Thirty percent of PARCAs, Partners & Advocates for Remarkable Children & Adults, budget comes from donated clothing that they then sell by the pound. They're a wonderful organization that has helped so many families. Consider them when disposing of clothing.
10. Calling the hauler
Before you have the hauler come out be sure everything left in the house is meant for the dumps. They don't make money standing around. They're going to come in like stampeding elephants to get everything out as quickly as possible. Before you can say, "Not that!" it'll be gone.
The haulers are the last call to make. If you'd rather not deal with it, call your favorite realtor to see how they can help you.