Reasons You Should Not Sell Your Home Off-Market
Whether you should sell your home off-market or not takes a lot of consideration.  We always see strange things in the real estate market – no matter if it's a home buyer's market or a strong sellers' market like it is now. When I say strange things, I mean things that don't make sense. I'm sure people have their reasons for doing one strange thing or another but I always wonder if they realize the ramifications of what they're doing and how much better their results could be if they went a different direction. Did their realtor tell them why that decision is not a good idea and they decided to do it anyway? Or did their realtor leave out the full story to get the result that would be best for themselves instead of the client?
We can debate good realtors against bad realtors all day. Every industry from dentists to coffee shops has good and bad people working in them. The issue with real estate is that we're talking about a heck of a lot more money that's at risk and realtors are supposed to have moral and ethical standards that should keep them from doing something they're not supposed to. Like I said though, every business has its own bad apples.
There are more reasons that you should sell your house on the market than off and trying to come up with reasons to sell your house off the market was a task. It was difficult because most of the time it's a bad idea.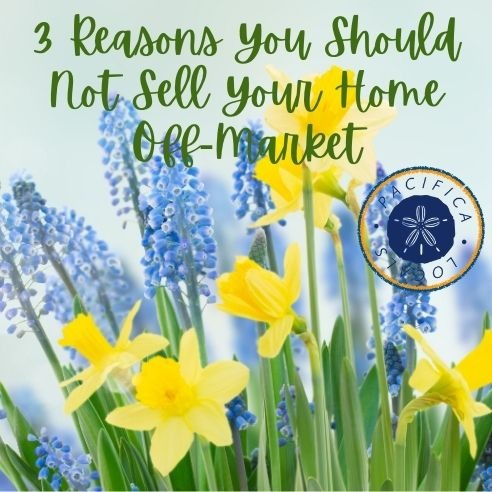 3 Reasons Not to Sell Your House Off-Market
1. You want to get the most money for your house. Doesn't everybody?
You're never going to know how much you could get for your house unless you expose it to the market and let as many buyers as possible see it. If you sell it off-market that isn't going to happen.
As realtors, we know a lot of people. That's part of our job. The bigger our network of people, the more houses we sell. We can usually come up with somebody who wants to buy your house. But is that really what you want? It isn't if you want to get the most money possible for your house.
There are a lot of sales happening off-market right now, behind the scenes. In a market where there's a herd of homebuyers out there, there's no reason for it. Don't let your real estate agent talk you into leaving any money on the table because it benefits them somehow.
A realtor recently purchased a house for far under the market price. A little painting and some staging was done and it's right back on the market for what it should have been listed for the first time.
Bad realtors are out there and the good ones know it but often don't do anything about it because there's no easy path. In order to report a bad realtor it's a process that is cumbersome and time-consuming. The other reason good realtors don't want to do it is that it makes them look bad too. Well, I think it makes us look worse when we ignore it while the bad guy continues to go along taking the consumer down the wrong road and we sit back and say, "That guy is so awful," and do nothing about it.
In this high-flying market, it isn't going to take long to sell your house. So if you want to take advantage of that and set yourself up for multiple offers, don't sell it off-market while your agent hunts around trying to find a buyer for you. Right now, that won't be a difficult task but who does it benefit? Not you.
3. You want to save money.
Some home sellers believe that selling off-market will save them money because they can use one realtor and save on the commission. That would be penny-wise and pound-foolish. Selling your house on the market and having an agent represent you and only your best interests will always get you more money. It's extremely difficult – although totally legal in many states – for one agent to represent both parties. How can your agent get you the most money and also get the buyer a good price?
Then the question of who gets the commission savings comes up. Well, of course, you want those savings. Guess what? So does the buyer. That can be a hurdle that you can't get over. Buyers have gotten smarter over the years and don't see that as a good idea anymore but selling off-market can bring up a whole lot of issues you just don't need.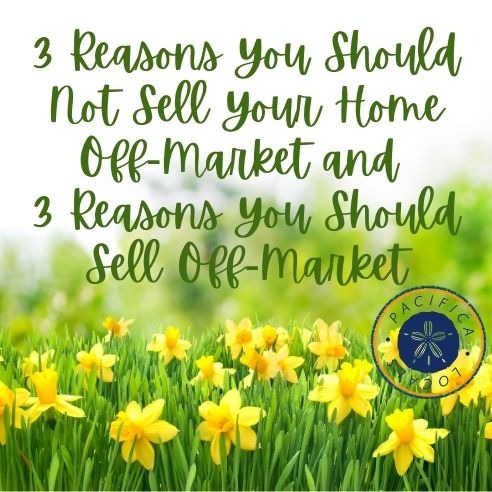 3 Reasons You Should Sell Your Home Off-Market
1. You don't care how much it sells for.
Yeah, right. If you sell it off-market you'll never know how much you could have sold it for, especially in the ridiculously strong sellers' market that we're in now.
I had a buyer tell me recently, "Maybe the seller doesn't need the money." Seriously? Who doesn't need the money? Nobody I know. Needing or not needing the money has nothing to do with it anyway.
2. You're very private and you don't want anybody to know you're selling or you don't want anybody coming into your house.
If that's worth giving away some of your money, that's, of course, fine. But, again, with homes selling significantly over the asking price right now, that's a big financial loss.
I did sell a property off the market once. The sellers had just had a baby and they didn't want anyone walking through the house, leaving their germs behind. I definitely made sure they understood what they could be leaving on the table in terms of money but their baby's health was more important. And we weren't in this kind of a market where you put your house up for sale and homebuyers come flocking to you throwing money at you. If it was today, I would have told them to go stay in a hotel.
3. The property is unsafe for people to enter.
If your property is in severely bad condition and you're concerned about the risk of having people walking around because they might get hurt, that's a good reason not to put it on the market. If it's reasonably affordable to make a few changes to make it safe, it will likely be worth doing the work to get it on the market and exposed to many more buyers. Before you spend any money doing repairs on your house be sure to check with your realtor to see what repairs or upgrades will bring you the most return for your money.
There are a lot of real estate companies out there encouraging home sellers to put a lot of money into upgrades – encouraging them so strongly that the realtor and their office will even finance the work. Before you do that, take a close look at this Cost vs Value Report. Why would you do a repair that's going to give you an 80% return on your money? Do your research before you decide.
You can sell any home in any condition. There's a buyer out there. As long as it's priced right, it will sell. The condition you sell yours in is determined by your budget and timeframe. You don't have to spend a lot of time or money to sell your house. There are a few things you must do legally but they don't cost a lot.
The only articles out there that tell the consumer it's a good idea to sell a house off-market are the ones directed to buyers. A homebuyer knows what a score it is to buy off-market. They've written other offers and have seen someone else move into their dream home. The idea of writing an offer on a house when there's no competition is a serious win for any buyer.