The November Pacifica Real Estate Market is performing as expected – it's slow.
During the holidays fewer home sellers put their houses up for sale. The weather isn't as comfortable to be out in and people are focused on family. That's also why it can be a good time to buy a house. As a buyer, there aren't very many others out there meaning there's less competition. Houses are staying on the market a little bit longer than usual so you can think about your decision for a minute.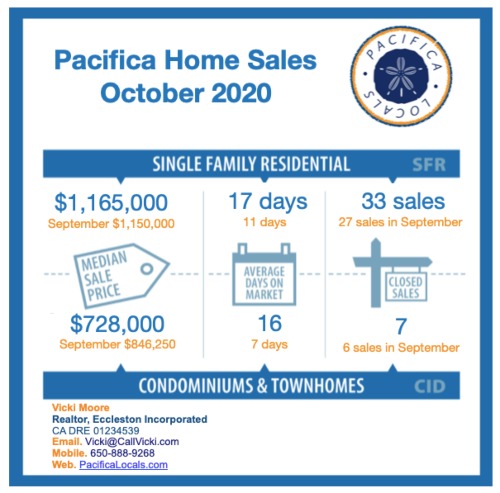 Where the Pacifica Real Estate Market is Today
In real estate we're always dealing with the expectation of both buyers and sellers. If you, as a home seller, do something outside of buyer expectations you're not going to get the result that you want.
Here's an example: Overpricing your house.
A property comes on the market at $750,000. It's overpriced in a declining/holiday market. A week later it's reduced to $735,000. Still overpriced. If you're going to reduce the price, it has to be significant enough to get the attention of buyers. Fifteen thousand isn't enough to do that. A couple of weeks later the property is reduced to $715,000. Closer but still overpriced.
Expectations: Homebuyers expect that they're going to have to write an offer for over the asking price. They look at a property that's overpriced, see an unreasonable seller and aren't even going to try. We call that "chasing the market" down by repeatedly lowering the price but not enough to actually sell. In order to catch up they're going to have to make a serious reduction. By now buyers think there's something wrong with the property. The listing becomes stale and it sits. It will take a significant reduction to get that property sold.
Read: 6 Reasons Houses Don't Sell that have Nothing to do with the House
The upside is that inventory has been low. There hasn't been an overabundance of properties for sale. But once you lose the opportunity for a first impression, now they're getting buyers that are new to the market instead of the whole market they had when they first went up for sale.
The inventory was up a little bit in September. You see that below in the higher number of pending sales in September and closed sales in October. In order to see the market trending, we need three months of stats going in the same direction. We don't have that here. Today there are 15 houses on the market which is extremely low. We have had days this year when it was as low as 8 homes but 15 houses for sale in a town of 40k+ people is something realtors outside of the area have never heard of.
What the economists are saying
The expert economists are predicting that inventory will remain low over the next year simply because we have never built enough housing for the size of the population. Pacifica is 70%+ parkland so that eliminates a lot of what would otherwise be building space.
Pacifica Real Estate Market at a Glance

The Best Time of Year to Sell Your House in Pacifica
Although houses tend to stay on the market long at the end of the year, that doesn't mean it's a bad time to sell. It's just not the best. Houses have sold over the asking price for the past 101 months straight. Houses started selling over the asking price in June of 2012 and haven't gone below 101% since.
We're "feeling" a slow down right now. The days on market is currently 26 and we've got that holiday feeling coming on.
Some Decembers have surprised us and turned out to be good for home sellers but you have to be aware and willing to take the risk that it won't turn out like you hoped.
Looking at the chart below, the darkest green is the best time of the year to sell. Nothing is guaranteed and you can't always sell at exactly the perfect time but it's still interesting to see what time of year has traditionally been the best.
The election
Although the non-scientific research I did to see if Presidential elections affected the market didn't show any signs of being a hindrance, with the contentious election this year combined with COVID and the holiday season we're already seeing the effect of properties staying on the market longer than they have all year. That could change. it's only the 11th of November.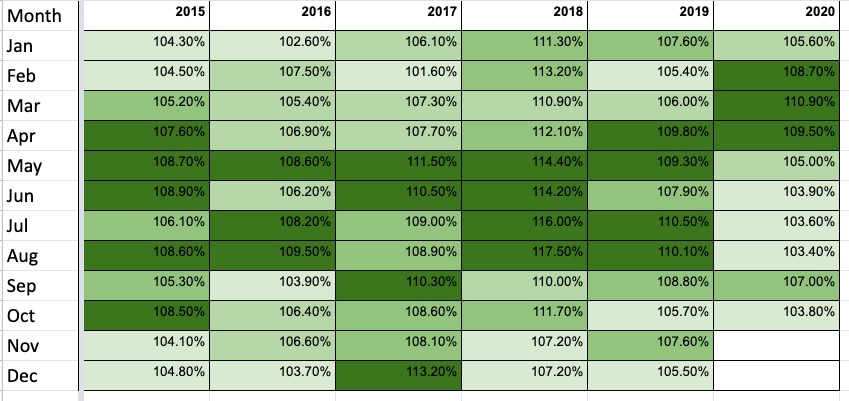 Pacifica Market Watch
The last chart is the 7 day Market Watch. Still seeing minimal inventory coming on the market while three times that went under contract.