The Pacifica Real Estate Market 2021
I really thought the 2021 Pacifica real estate market would suffer from the impacts of Covid, the shelter in place, business shutdowns, and job layoffs. But, boy, was I wrong. January started it off on an upward trajectory, again, with low inventory and multiple offers.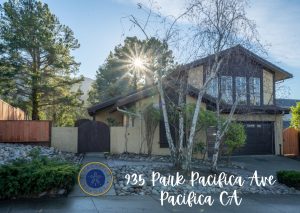 935 Park Pacifica Ave had double-digit offers in January. It sold for $212,000 over the asking price which was surprising at that time. It was just the beginning though.
Sale prices averages 2021
First quarter sale prices averaged 8% over asking.
Second quarter of the year average 13% over the asking price.
Third quarter went down slightly to 11% over the asking price.
Fourth quarter 12% over the asking price.
The average for the year was 8% over the asking price.
In Pacifica, the median price for a home grew by 17% from 2020 to 2021.
According to Lance Lambert in Fortune article December 6, 2021 ~ "home prices rose faster in 2021 than any period in tabulated U.S. history: Between August 2020 and August 2021, U.S. home prices notched a 19.8% gain—the largest uptick on record. Of course, actual price growth varied across states."
Pacifica Real Estate Market Stats
Medians and averages aren't very helpful when you're trying to figure out how much a property should sell for. But they do give a wide perspective on the state of the market. They're a snapshot of the market at a given time. And it's interesting.
Sixteen days was the average number for homes to sell. That's remarkably fast considering that accounts for negotiating time as well. It may take one to three days or even more for the negotiating to go on. So, on average, homes were selling in thirteen to 16 days.
A total of 285 homes sold which is really low. Here's a look at previous years:
| | |
| --- | --- |
| 2021 | 285 |
| 2020 | 334 |
| 2019 | 339 |
| 2018 | 384 |
| 2017 | 373 |
| 2016 | 379 |
| 2015 | 365 |
| 2014 | 415 |
| 2013 | 411 |
| 2012 | 434 |
Experts predict 2021 trends to continue
National experts anticipate many of 2021 housing trends will continue in 2022 with higher sales prices at a more moderate growth rate. They're anticipating more moderate growth because of the expected increase in interest rates, inflation, and many other factors that may come into play during the year.
The Fed has been talking about increasing interest rates for a couple of years. Right now experts are expecting three to four increases. Yesterday it was reported that we should expect the first increase in March.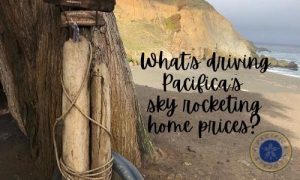 What's driving our sky rocketing home prices?
The one factor that continues to drive the local Pacifica real estate market is the lack of inventory. Today there are 8 homes for sale. EIGHT!
The least expensive home is 451 Firecrest at $1,088,000. Currently the highest priced home on the market is 175 Olympian Way. Olympian just went under contract, receiving multiple offers.
As prices increase on the Peninsula, in places like San Mateo, home buyers come to Pacifica seeking lower prices. We've always been the more "affordable" city to buy a home. The definition of "affordable" has changed drastically over the past two decades.
I didn't want to spend a ton of time looking for examples. But here's a comparison to give you an idea of what home buyers are facing.
Pacifica Real Estate Market Quick Comparison to San Mateo
2450 S Norfolk, San Mateo listed for $1,272,000 and sold for $1,300,000.
3 Beds | 2 Baths | 1,100 sqft | 5,000 sqft lot
213 Hillside Drive, Pacifica listed for $1,198,000 and sold for $1,258,000.
Too small of a sample for a study but it gives you a quick idea of the difference in markets.
Pacifica Real Estate January 2022
This year has started as a mirror of 2021. Because we have exceptionally low inventory, buyers are submitting really high offers. Often multiple offers.
We'll have to wait and see what, if any, effect of higher interest rates and inflation have on our local market.
So if you're thinking of selling your home and would like to know what it could sell for, contact me.
Has the population of Pacifica grown? Is that why the shortage of inventory is such a big problem?
From Bay Area Census:
2000:  38,390 residents.
2010: 37,234 residents.
2020: 38,640
The largest increase in population was between 1960 to 1970. Pacifica incorporated in 1957 so there is no population information prior to the 1960 census. We know that the population prior to 1960 was caused by the significant growth. The number of homes that were built in the decade prior was enormous. 1960-1970 is the last time there was a significant increase in population.
1960: 20,995
1970: 36,020
1980: 36,866
1990: 37,670
2000: 38,390
2010: 37,234
So what's the problem?
So if the population hasn't grown significantly in 40 years, what's the problem? Since I have no idea, I'm going to guess it's the size of the individual households.
The number of school-aged children started dropping so much in the 1970s and '80s that schools were closed and several sites were sold. As the population has aged, there are more singles and couples living in town than in the 60s, 70s and 80s when those couples had children. So my theory is that fewer people are living in each home. The same number of people but spread out in more homes.
What do you think?
If you're considering selling your home you might be interested in knowing why professional photography is so important when selling.  You'll definitely want to know about the tax consequences of selling your property.
---
---
The above real estate information, 2022 Pacifica Real Estate Market, was written by Vicki Moore, Pacifica Realtor.
You can contact me via phone/text at 650-888-9268 or via email [email protected]
I have helped people in the San Mateo County | Silicon Valley market since 1998. I specialize in my hometown of Pacifica.
Are you thinking of selling your home? I have a passion for real estate and would love to talk to you about how I can help you.
I provide real estate services in San Mateo County, CA which includes the coast: Pacifica, Montara, Moss Beach, El Granada, Half Moon Bay and the Peninsula in Burlingame, San Mateo, Foster City, Belmont, San Carlos, and Redwood City.