Is the Pacifica real estate market as ridiculous as it seems?
To begin with, the market ebbs and flows weekly.  Ordinarily, the stats are typically helpful over time.  Outside of statistics, realtors have to use their knowledge of today's market and their instincts to get an accurate perspective of what's happening on a daily or weekly basis.   That is especially relevant when choosing a list price with a home seller or trying to help a Pacifica home buyer to figure out how much to offer on that house they love.
These stats are all year to date – as of May 31.  We just don't have enough sales to break this down by month.
How Much Did Homes Sell Over Their Original List Price?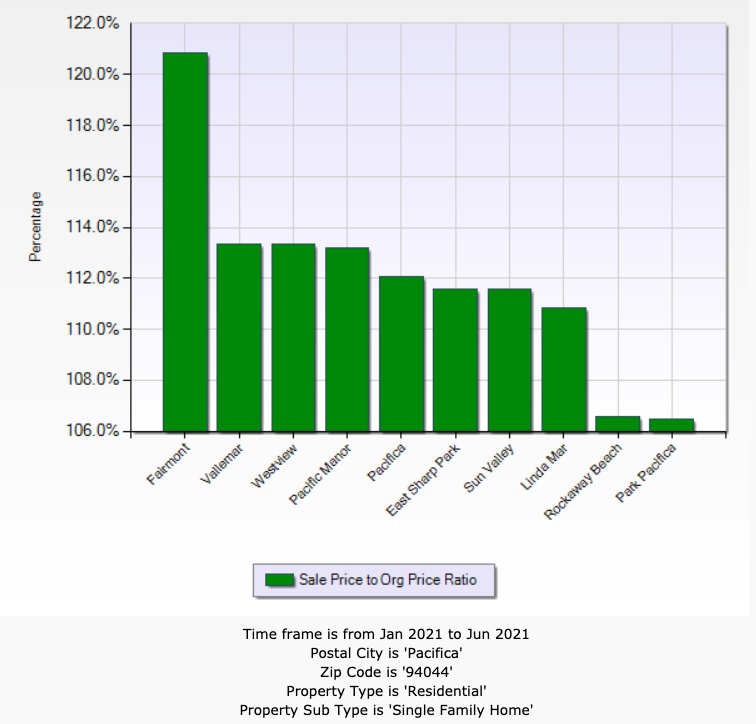 This is a perfect example of how local real estate actually is.  The Fairmont neighborhood has become more and more desirable as commuters currently prefer to be closer to the freeway as opposed to Park Pacifica where you'll have to add 10 to 15 minutes to your commute just to get to Highway 1.  For that reason, Fairmont is seeing astronomical sale prices.  Although, Park Pacifica is pretty incredible at 106.5% over the asking price.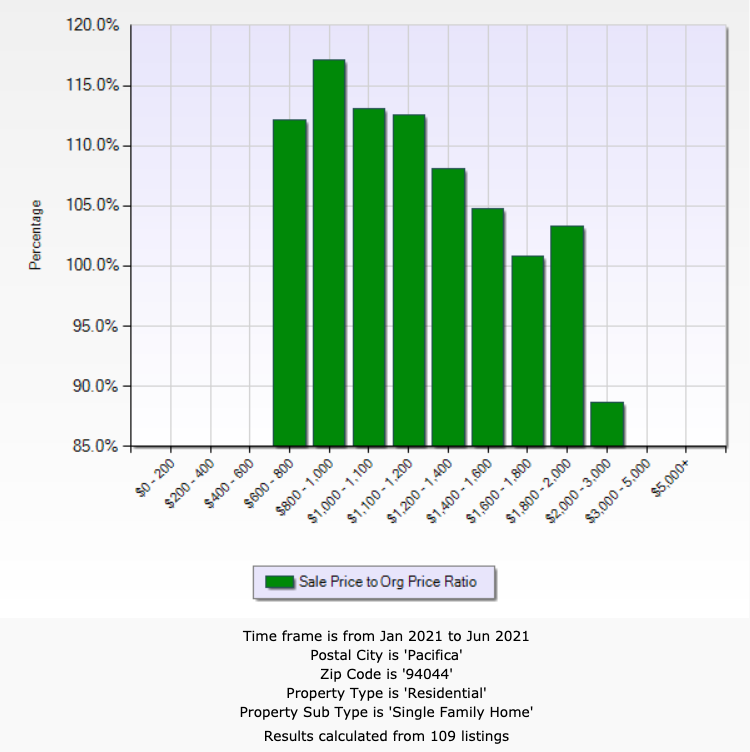 Pacifica Real Estate Market:  Micro Markets
In addition, neighborhoods aren't the only micro markets.  You also need to look at market segments via price ranges within the Pacifica real estate market.
The lower the price, the more buyers there are.  Accordingly, it's reasonable to see those homes in the lower price ranges get a higher range over the asking percentage.
However, having said all that, don't let these numbers fool you.  Eight percent of the houses that are overpriced also sold under asking.  Whether it's the home seller or the agent making that error, it's deadly to seeing a home sell quickly.  Multiple offers are out of the question.  There's no doubt that pricing is the most important consideration when selling a house in the Pacifica real estate market or anywhere else for that matter.
8% of homes sold under the asking price
6% sold at the asking price
3% sold up to $25,000 over asking
17% sold between $25,000-$75,000 over the asking price
16% sold between $75,001-$125,000 over the asking price
15% sold between $125,0001-$175,000 over the asking price
15% sold between $175,001-$225,000 over the asking price
10% sold between $225,000-$275,000 over the asking price
5% sold between $275,001-$325,000 over the asking price
3% sold between $325,001-$375,000 over the asking price
2% sold between $425,000-$475,000 over the asking price
It's astounding that 10% of the home sales were $275,001-$475,000 over asking.  The nationwide median sale price of homes is $370,528; whereas, houses in Pacifica are selling for that much over the asking price!  (Nothing sold between $375,000-$424,999 over asking.)
Sales Price to Original Sale Price Ratio
January to May 2020 108%
January to December 2020 105%
January to May 2021 110%
Average Sale Price
January to May 2020 $1,288,436
January to December 2020 $1,234,426
January to May 2021 $1,389,774
You're Not the Only One Who's Shocked about the Pacifica Real Estate Market
I am completely shocked by what's happening in the market.  Well, I was earlier this year.  Now I'm becoming less surprised by the sale prices we're seeing.  I expected things to be different this year.  Because, there's been so much turmoil in the world, I thought that that would have a negative impact on the nationwide real estate market.
Why are Home Prices Continuing to Escalate?
The continued lack of available housing over the past several decades has been the main cause of home price increases.  All throughout California and in some parts of the Nation, there are housing shortages.  For decades, the State of California has been dictating to each county the number of homes that must be built.  Then each county distributes the number of builds each city is required to make.
Regional Housing Needs Allocation – RHNA
"California state law recognizes that local governments play a vital role in developing affordable housing. In 1969, the state mandated that all California cities, towns and counties must plan for the housing needs of our residents—regardless of income.
This state mandate is called the Housing Element and Regional Housing Needs Allocation, or RHNA. As part of RHNA, the California Department of Housing and Community Development, or HCD, determines the total number of new homes the Bay Area needs to build—and how affordable those homes need to be—in order to meet the housing needs of people at all income levels.
Association of Bay Area Governments
ABAG, working with the Housing Methodology Committee (HMC) , then distributes a share of the region's housing need to each city, town and county in the region. Each local government must then update the Housing Element of its general plan to show the locations where housing can be built and the policies and strategies necessary to meet the community's housing needs."
Unless there's a compromise, the Pacifica Real Estate Market will continue to see rising prices
Probably needless to say, we've failed at meeting the housing needs of our communities.  As a result, the solution is to build homes.  According to United News Post, the Bay Area needs 160,000 affordable units to solve the housing crisis.
Even under these circumstances, Pacifica voters continue to veto any type of construction, whether it's commercial or residential.  You can't have affordable housing without new housing.  Consquently, the cycle will go on until the community finds a way to compromise.  In the meantime, the housing crisis will continue.