Selling your home in winter will require extra planning and preparation. There's a lot to consider no matter the weather. However, in the winter, there are even more factors that may hinder your successful home sale.
Is Selling Your Home in Winter a Good Idea?
There is a lot of debate about selling your home in winter.  One side is less enthusiastic about the idea than the other. One argues that winter offers distinctive opportunities thanks to the holiday festivities and carefree attitude when it comes to spending money. The other tells us that the cold, windy, and wet weather will keep buyers online and reluctant to go out to look at homes.
Whether or not selling your home in winter will favor you depends on how prepared you are.
Here are some of the most helpful tips when selling a home in winter: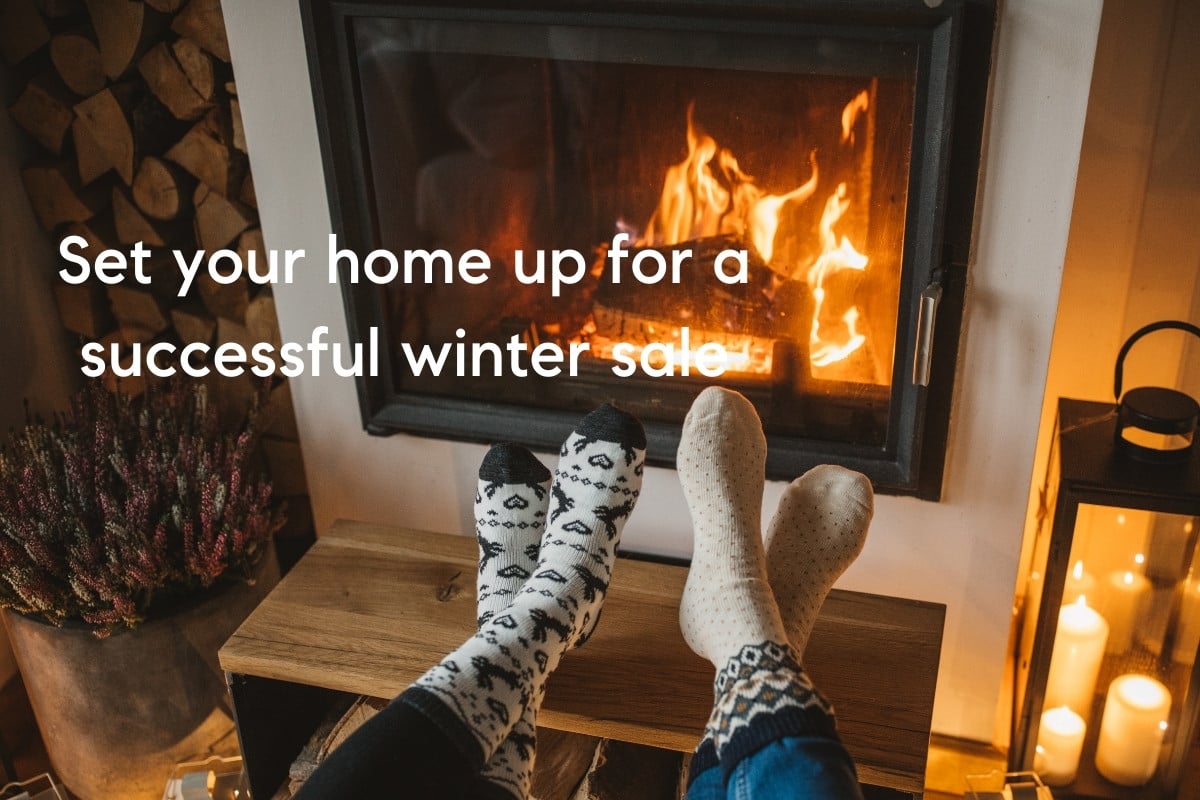 Set an idyllic winter ambiance
Getting buyers out of their warm homes is going to take some extra effort.  So when staging your home for a winter sale the vibe you create can make a big difference.  Enticing someone to get out of the warm car as opposed to driving by will be your goal.
You can do that with colors, accessories, and furniture.
Start with a focus on the pictures since that will be the first impression. Ensure your home's ambiance is cozy and warm. Make the buyers comfortable enough to want to bundle up to go out knowing that they'll be warm and comfortable once inside.
We know a buyer is truly interested in a home when they can envision themselves living there. So show them how great it would feel to curl up around the fireplace with a hot cup of coffee or tea. The fireplace should be on during the picture session.
Extra pillows and throw blankets on the sofas, chairs, and beds will give that homey feel we're all craving during the cold winter months. They also give the house a welcoming touch while bringing feelings of warmth and comfort.
Also, take the photos of the house on a bright day for better lighting quality.  It will also give potential buyers a good idea of what it will be like living there in summer or spring.
Curb appeal
There isn't much you can do in terms of landscaping in winter. Keeping the property tidy helps.
Clean up dead flowers and sweep leaves. You may also display winter planters at the entrance. Additionally put away seasonal items like lawnmowers, pots, and holiday decor.
If you have garden beds ensure they have fresh mulch to improve their look. If possible, maintain outdoor furniture on the patio for buyers to experience the outdoor living space and appreciate the whole property from there.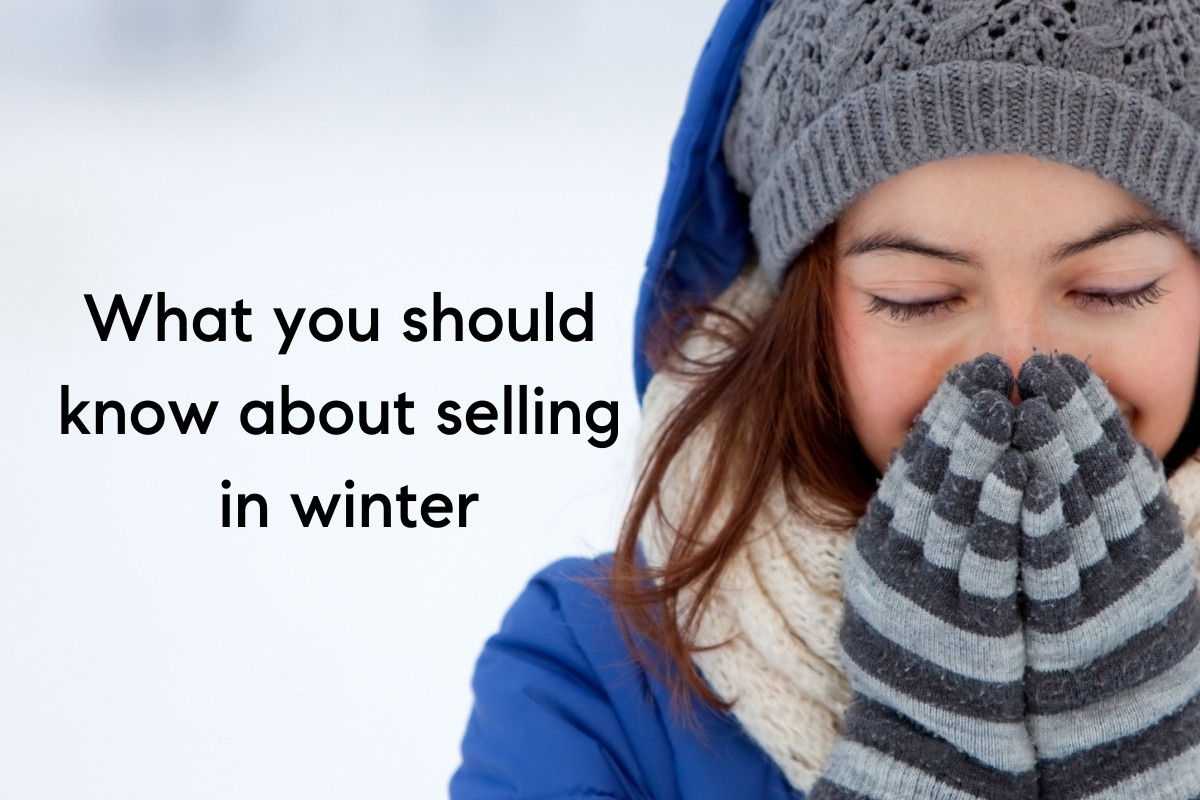 Be prepared for showings
Showings start at the curb. Try to keep the driveway and the street directly in front of your house open for appointments. Yard and porch lights will make the entrance feel welcoming also. You may have to do a last-minute sweep of the driveway and walkway.
Also, have a rubber mat at both the exterior and interior entrances to catch the water and dirt that will be tracked in.
Additionally, have a spot to leave umbrellas, coats, and shoes at the entrance.  Providing that space lets buyers know that you appreciate them coming out in the nasty weather. That thoughtfulness will stay with them. They'll feel very comfortable knowing that that particular spot near the front door is reserved for them to place their wet items. It will be a lot easier touring your house without dragging their wet coats along with them. Potential buyers not only want a beautiful home but also a functional one.
Buyers who love the outdoors will want to check out the patios, decks, sheds, and garage even on the worst days. It may help to have indoor and outdoor mats at the doors to the outside. Towels and rugs at the back door will also be helpful for both the potential buyers and their realtors.
Lastly, the having the heater on and warm will be welcoming. Set a comfortable temperature. The temperature of the house plays a huge role in keeping visitors in the house as long as they want. The longer they stay, the more interested they are. Therefore, ensure the house is warm, especially when you have planned showings. It will be difficult for buyers to focus on the house if they're freezing.
Proper lighting
Winter days can be cold, wet, and gloomy. Thus, you won't have the advantage of ideal natural lighting abundant in spring and summer. However, you can still maximize on the available natural light by cleaning the windows, opening the drapes and blinds as well as installing brighter light bulbs. Actually, changing all the light bulbs in the house to matching ones is a great tip. It will make the photos better than you can imagine.
Beautiful outdoor solar lighting along the entranceways and paths is an inexpensive yet impressive addition.
On cloudy and gray days you can bring out the ideal winter ambiance by use of track lights, extra lamps, flameless candles, etc. They lighten up dark hallways and corners without being too harsh.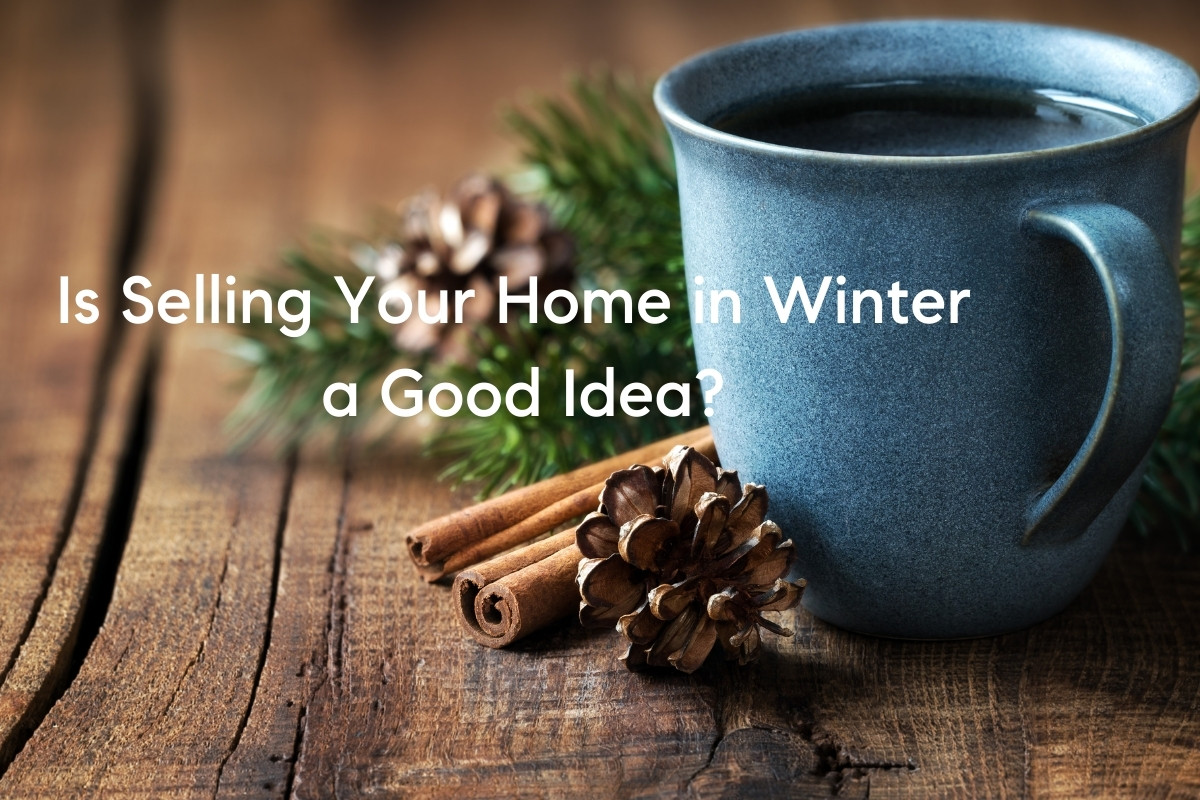 Home maintenance
It's time to take a look at home maintenance. You need to can catch up on it even if you've ignored it until you have to sell the house.
A home inspection will give you a list of possible repairs. It is
really stressful for the furnace to stop working right when you are about to show the house. Additionally, have the HVAC filters changed to eliminate murky odors and reduce allergens in
the house.
The inspector will check the roof and chimney for any damage. You can go a step further to trim trees and clean gutters.
Also, check doors and window seals for drafts that would make the environment uncomfortable. Visitors will definitely notice a drafty window during winter.
Flexibility
There will be more hindrances to house showings in winter compared to the other seasons because of the weather. Thus, you need to be more flexible with showings. Holiday obligations,
less natural light, storms, and inaccessible roads can interfere with the showing schedule.
Because of these possible problems, you may have to reschedule viewings often or allow buyers to schedule a second visit when the
conditions are more favorable.
Also, there are fewer buyers in the winter.  It's a good idea to go above and beyond for the ones who do brave the nasty weather.
Keep holiday decor to a minimum
Keep holiday decor at a minimum when staging the home or taking listing photos. Buyers will appreciate some holiday decor as long as it is simple. It is hard to judge the structural/aesthetic
condition of the house when all the walls are covered with holiday decor. If you have to decorate then stick to neutral and modest accessories.
A tall Christmas tree can be a positive holiday feature.  Vaulted ceilings can be highlighted since it draws the eyes of the buyers up to appreciate the ceiling height.
Also, keep the decorations in the living room rather than having them spread all over the house. You can have the house looking festive without being too overwhelming.
Deep cleaning
Deep cleaning is essential before listing a property no matter the season. However, it is more crucial in winter because of harsher lighting.
Also, spending a lot of time indoors can make the house dirtier compared to the summer and spring. Therefore, vacuum rugs often, wipe down the light switches, cupboard doors, and dust ceiling fans. Also, remember to clean floor vents, baseboard heaters, and furnace rooms.
Summing up Selling Your Home in Winter
Selling a home is a big project. Preparing the property in advance will be a great help in keeping your stress level low. By keeping the home cozy and warm and ensuring everything is working well it won't be difficult to impress potential buyers.
---
Welcome to the Pacifica Locals Real Estate Blog! This real estate website, as the name suggests, is all about generating the dominating the online exposure that your home deserves.
Vicki Moore of Compass has been working in the local market since 1998. She is a veteran to the real estate industry with expertise in technology, marketing, and social media.
If you are thinking of selling a home, condo or other real estate in the following towns: Pacifica, Half Moon Bay, Moss Beach, Montara, El Granda, San Mateo, South San Francisco, Daly City, Belmont, San Carlos, Burlingame, Millbrae, Hillsborough, Foster City, Redwood City, and Redwood Shores there are thousands of Realtors to choose from.
We would welcome the opportunity to show you how we get outstanding real estate results. If you are looking for a real estate agent who will make a difference you have come to the right place.