Vicki Moore Pacifica Realtor
Looking back at the past three months – September, August, July – there's no market trend indicated. In order to have a trend in the market, we need to see three months going in the same direction.
July was the highest out of the three months with the median sale price of $1,252,000; the average sale price was $1,299,466.
We had a dip in August with the median sale price of $1,050,000; an average sale price of $1,045,660.
September was back up again with a median sale price of $1,150,000 average sale price of $1,180,259.
So far this month we're seeing the days on the market rise to 22. The lowest days on the market was in May with 2 days! Twenty-two days is the highest so far – slightly up from January which was 19. Looking back at 2019, the days on the market for the same months are half of what they were last year.
The median sale price has dipped slightly; the average sale price is up. The sale price to list price ratio is down but still over the asking price.
There are currently 69 properties that are active on the market and pending or under contract. Ten of those have seen price reductions. The average days on the market for those properties with price reductions is 40 days. I haven't looked at price reductions in ages because there haven't been any to look at. That's an interesting marker to keep track of.
We'll have to wait for the end of the month for a fair assessment of the current market. Looking at it microscopically is what we do on a daily basis when working with clients who are in the market to buy or sell at that particular time, but not super helpful in a larger perspective of what's happening in the market. The most interesting aspect of what's going on right now are the price reductions.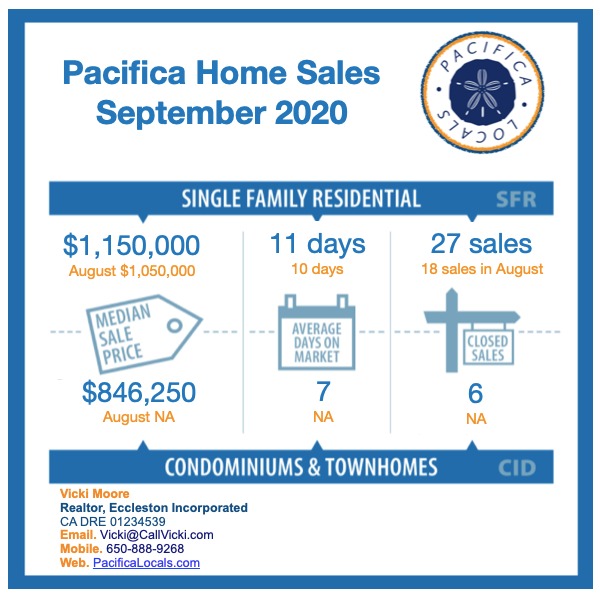 The Future of the Pacifica Real Estate Market
If I had a crystal ball, I could tell you exactly what's going to happen.  Unfortunately, even the tarot card readers were wrong about 2020.
Experts, like the economist for the California Association of Realtors, Leslie Appleton Young, is telling us that low inventory will remain to plague the market keeping prices up.  However, buyers may get fatigued with those prices.  We could see prices come down some.
I did some research on the Pacifica real estate market during Presidential years.  Our multiple listing service online data only goes back to about 1999 so it definitely wasn't comprehensive research.
I was reminded that there were other significant events during those years.  Differentiating between the remarkable events of those years, the presidential election and the fact that there were no major differences in market performance, I believe that the elections had little to no impact.
2001 Events
January 20: George W. Bush becomes President.
June 5–9: Flooding in Houston from Tropical Storm Allison.
September 11: 9/11 attacks.
October 7: The War in Afghanistan begins.
Virginia O'Brien.
Dale Earnhardt.
Stanley Kramer.
Ann Sothern.
2004 Events
January 4 and January 24: Spirit and Opportunity land on Mars.
April 28: Abu Ghraib prisoner abuse revealed.
June 5: Former President Ronald Reagan dies at 93. A six day state funeral follows.
July 29: John Kerry, Democratic Presidential nominee.
November 2: George W. …
Ann Miller.
Mercedes McCambridge.
Pat Tillman.
2008 Events
In September of that year, America came very close to total economic collapse.

Fed Innovated to Replace a Failed Banking System. …
Bear Stearns Bailout. …
Freddie Mac and Fannie Mae Bailout. …
Lehman Brothers Bankruptcy Triggered Global Recession. …
Fed Nationalized the American International Group. …
Credit Markets Froze.
2012 Events
A gunman opens fire at a midnight screening of "The Dark Knight Rises" in Aurora, Colorado, killing twelve and injuring fifty-eight people on July 20th.
The Summer Olympics are held in London, England from July 27th to August 12th.
The Mars Science Laboratory or "Curiosity Rover" successfully lands on Mars.
The Diamond Jubilee of Queen Elizabeth II celebrating the 60th anniversary of her ascension to the throne in 1952 takes place, with celebrations throughout the year in the United Kingdom and around the world.
2016 Events
The Brexit Referendum
The Brexit Referendum
President Obama's official trip to Cuba
The continued threat of ISIS
The Orlando nightclub shooting
Standing Rock and the Dakota Access Pipeline Protests
The Syrian refugee crisis