Pacifica Locals Matt & Nicole Tucker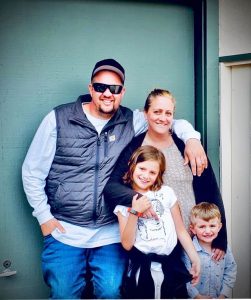 The Tucker family are longtime Pacifica Locals. Matt grew up here when his family moved to Pacifica in the early 1980's. He attended Oddstad, Ortega and Archbishop Riordan High School.
Three years ago, he and his wife Nicole moved back to Pacifica to raise their children in – as Matt said, "One of the most wonderful places on earth."
Nicole teaches at Temporary Tot Tending where their son attends. Their daughter is a Vallemar student.
Servers Standing By Supporting their Community
Matt has been working with Servers Standing By for 15 years – a company that supplies corporate catering for tech companies. When COVID hit, they lost 95% of their business. Going under isn't an option for this family-run business. They have 9 vans and drivers plus 20 kitchen staff.
They got creative and decided this was an opportunity to give back to the communities they love.
Their main goal is to connect with other Pacifica Locals businesses to deliver their goods as well. So if you'd like to connect with Matt to deliver something wonderful and delicious to your neighbors, you can reach him at 650-281-5668.
Essential Groceries Delivered
Matt and his team will be delivering essential fresh/frozen produce, meats and dry goods to your doorstep.
Deliveries can be made to Pacifica, Half Moon Bay, San Mateo, Burlingame, Millbrae, Daly City, South San Francisco, San Bruno, Hillsborough, San Carlos, Belmont, Redwood City and Foster City.
You also may do curbside pick up in San Mateo.
Place orders at Servers Standing By or by calling 650-342-5753.