The Greatest Selling Points in Any Home
A spacious and well-designed kitchen and bathroom are two of the greatest selling points in any home. It's a surprise that many builders/sellers still don't focus on these two very important features.
Furthermore, the pandemic brought a shift in our work environments and social lives.  Working from home became the norm.  Also, people shifted to entertaining, eating together, and relaxing all at home. This necessitated design trends that favor an even more comfortable home environment.
Additionally, home offices have become essential in home design.  But not everyone has extra
space for that. In such a case, the kitchen table makes for a great workstation.
Also, spa-like bathroom designs have become trendy to while away hours when stuck indoors. Thus, the popular kitchen and bathroom trends now support a stay-at-home way of life. Homeowners want functional and clean yet zen and aesthetically pleasing kitchens and bathrooms to create a calming mood.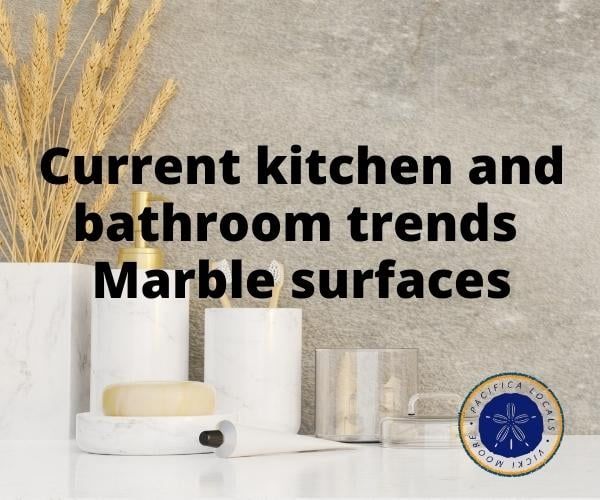 Here are the current kitchen and bathroom trends you should be aware of:
1. Marble Surfaces
Marble kitchen/bathroom countertops and tiles aren't a new finish. However, their
popularity has increased significantly recently.
Homeowners no longer want the traditional look. And this is reflected in the current marble designs. They now have bolder veins that are not only modern and classic but also inviting. The fluidity and uniqueness of marble designs are timeless. Also, marble pairs well with polished, wooden, or metallic surfaces because of its contrasting characteristics. Whether on the sink, backsplash, or countertops, the unique veining of marble is a memorable look.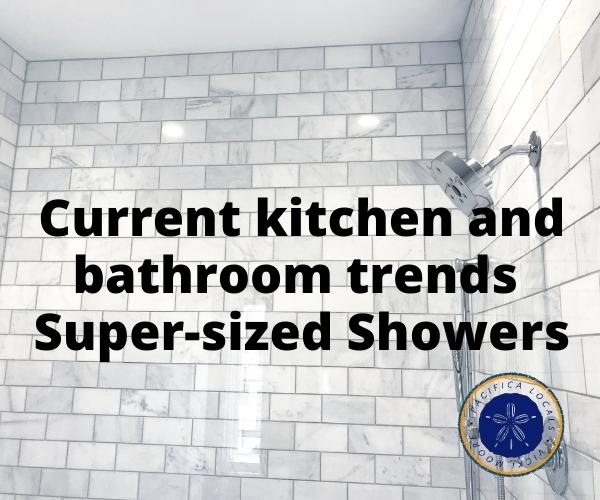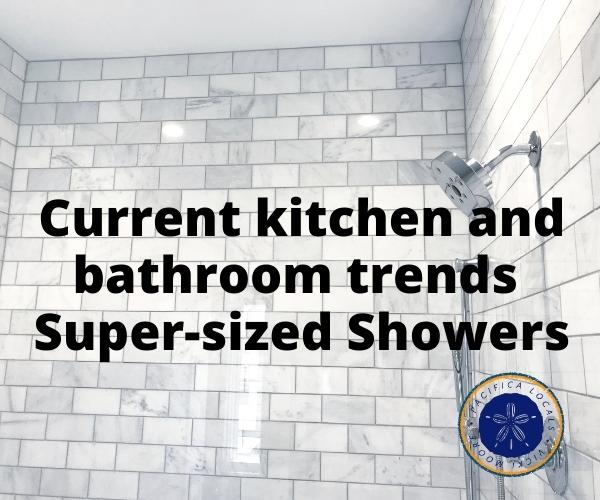 2. Super-sized Showers
Classic 30″ showers are being phased out. Most new builds now have showers over three feet. There is also an increased demand for 2-person showers as well. Also, four-piece bathrooms are in style even with bathroom renovations.
Additionally, trendy en suite bathrooms now feature a separate shower and soaker tub. The trend to increase the size of bathroom features is not just limited to showers but sinks as well. The standard 15″ sinks are slowly being replaced by 20″ wide sinks. Some bathrooms even have one long trough-style sink with two or more faucets. Accessorizing bathrooms is also becoming a trend creating the need for wider vanities.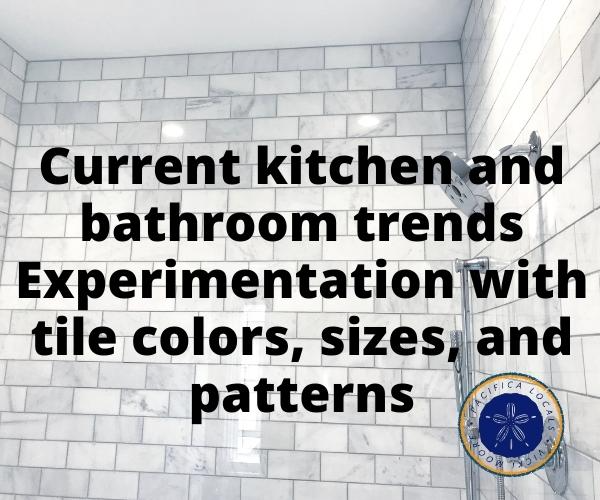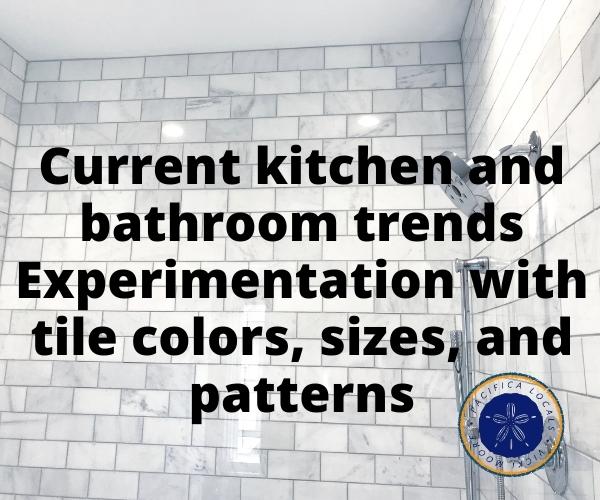 3. Experimentation with tile colors, sizes, and patterns
Originally, tiles were only installed in bathrooms and kitchens due to their durability. Their
water-resistance properties, low maintenance, and resilience make them perfect for wet areas.
However, their desirability isn't limited to these select locations anymore. And their aesthetic impression is just as important as their functionality.
On the same note, you no longer have to stick to just one tile color, pattern, or size in each room. People are now more confident in experimenting with bathroom and kitchen tiles. However, mixing up too many colors, patterns or sizes can easily become overwhelming. You want to create a zen environment, not a visually confusing one.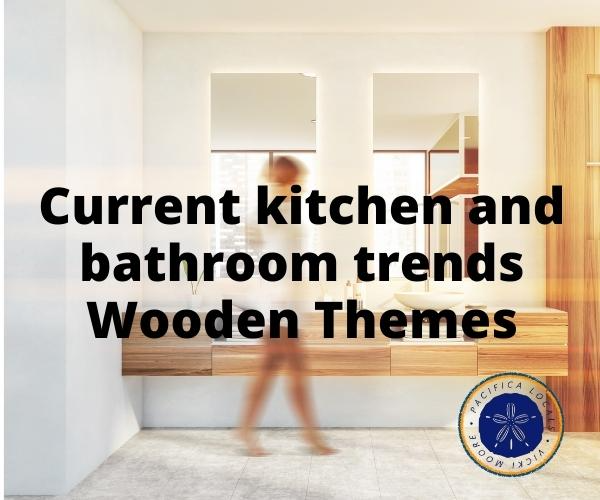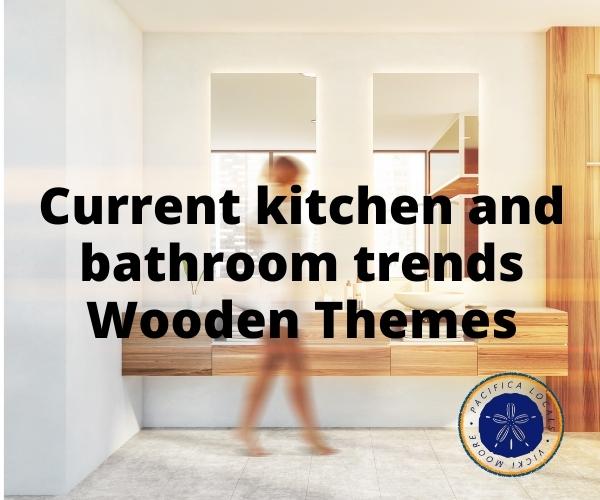 4. Wooden Themes
White, or a variance of the shade, was the go-to color scheme in the kitchen and bathroom for the longest time. However, this is being overtaken by warmer shades. Homeowners have outgrown the neutral, blank walls in favor of softer and more welcoming colors. Now, the common color trends are earthy tones and soft beiges. They evoke a cheery and laid-back mood that isn't just warm but also inviting.
Additionally, natural wood finishing and greenery palettes give bathrooms and kitchens an outdoor feel. The same can be said of golden sunset and woven textures. Natural wood cabinetry is not only loved for its aesthetics but also its durability and practicality. It can withstand a lot of wear and tear without crumbling. If you don't want to do a complete overhaul of the cabinetry you can opt for wooden countertops. Their rustic charm is hard to resist.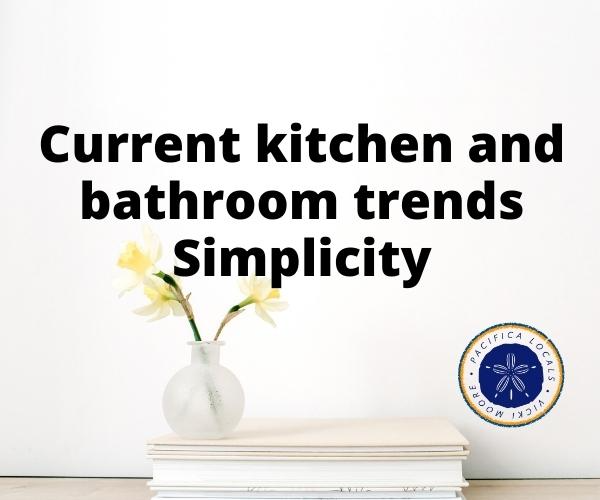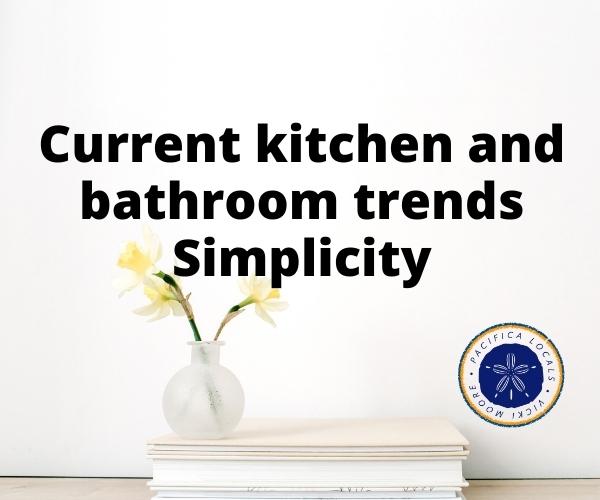 5. Simplicity
With each passing day, more people are choosing a simple and minimalistic lifestyle. Not only does it make your home less cluttered but also more organized. Only the essential items remain.
Remodelers are now focusing on decluttering which leaves the space looking fresh and clean. This simplicity mindset isn't just about decor items but also construction materials. Arched-top doors, which were the norm in the past, are no longer the go-to. Most new builds now have simple flat or shaker doors. Also, less paneling on cabinetry translates to shorter cleaning times. Who doesn't appreciate a shorter chore list!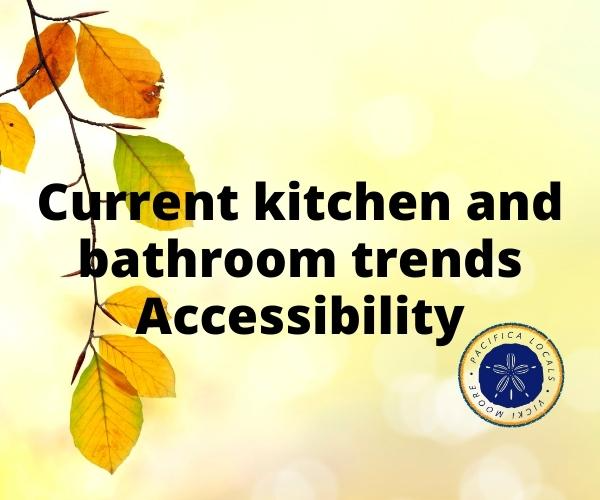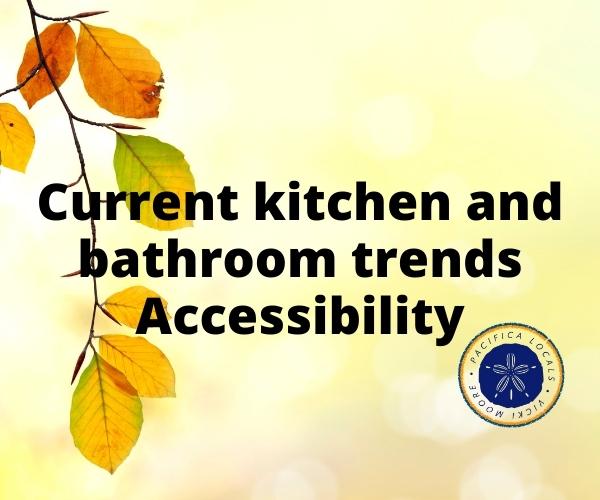 6. Accessibility
Making everything in the home accessible to people with different needs has become quite important when redesigning kitchens and bathrooms. With many elderly people preferring to remain at home in their golden years, being able to access various spaces and appliances in the kitchen without bending is essential. A universally accessible kitchen allows people of different ages and needs to use it comfortably.
Also, curbless showers in the bathrooms are essential in making these spaces easily accessible. They allow even people in wheelchairs to move through spaces easily and independently. Enclosed showers with inset bases or ledges are a thing of the past now.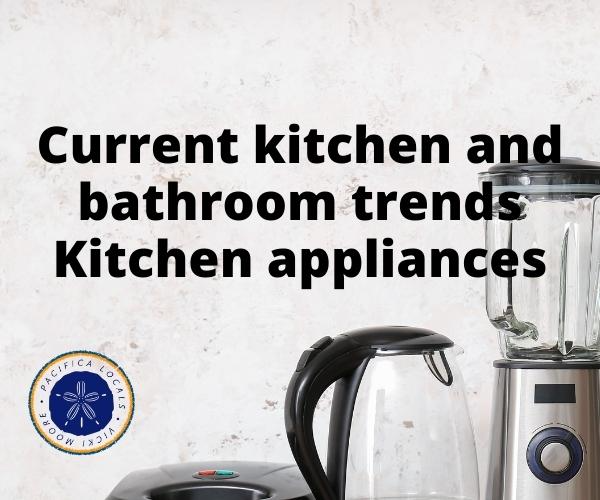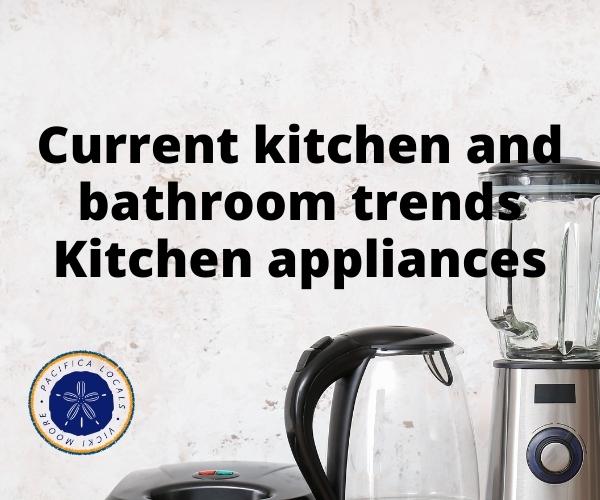 7. Kitchen Appliances
Kitchen appliances are getting bigger and sleeker every day. 60″ high refrigerators and six-burner stoves are standard. Oversized sinks are also quite popular now. Homeowners are buying the latest kitchen appliances to make their work easier. Garbage compactors, steam ovens, drawer microwaves, and even built-in coffee machines are the standard in many homes. Some kitchens now have more appliances than cabinets! It isn't a surprise given how hard it has been to keep working amidst a pandemic. Many people spend all their energy working and anything that makes house chores simpler is a relief.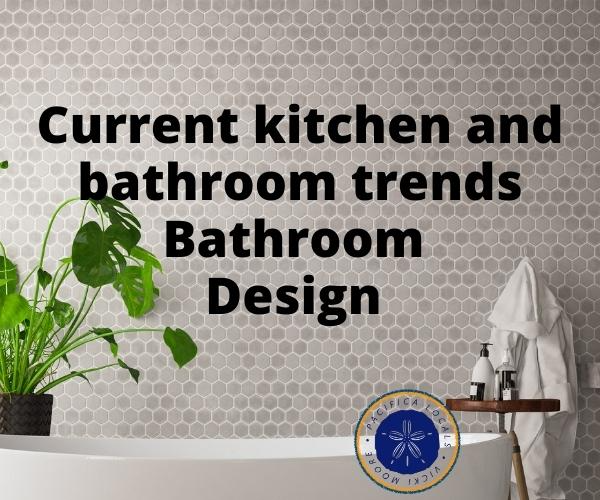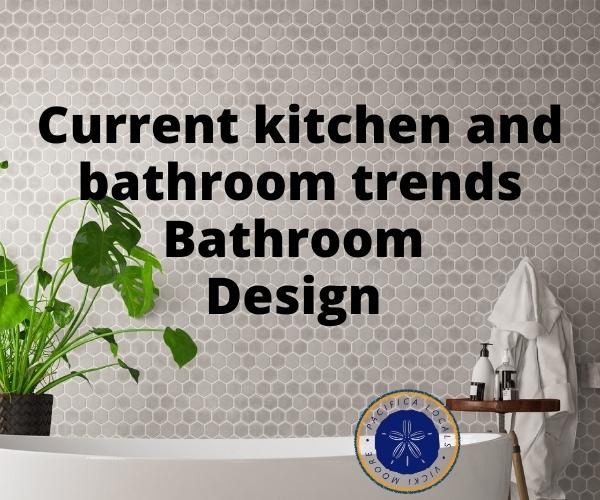 8. Bathroom Design
Trendy bathroom styles now promote a clean and tranquil atmosphere. There is a high likelihood that this will only get more popular in the coming years. More neutral shower curtains and smaller ornaments are some of the simplest ways to update a bathroom. Anything sleek and clean that doesn't come off as too contemporary is the standard now. Additionally, lighter surfaces and brighter colors are becoming more popular because they are easier to clean besides being very attractive. Combining items from different styles has also become quite popular. We are seeing more and more blended bathroom styles. They may transition into a standard look soon.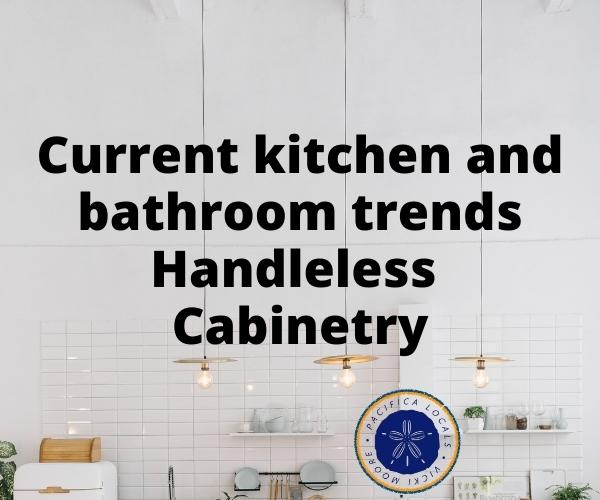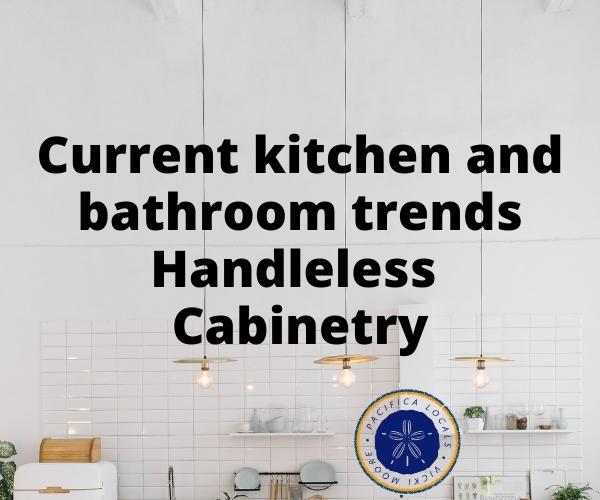 9. Handleless Cabinetry
Kitchen and bathroom designers now prefer handleless cabinetry features. Auto-lift and push-open cabinetry are the hottest trends now. They offer a smooth and clean appearance from all angles. However, they are not for everyone! If they aren't your cup of tea then recessed handles are a great alternative. Pairing recessed handles with contrasting materials or colors gives a refined look. Additionally, it is worth noting that innovative designs in kitchens and bathrooms
now offer a free-flowing concept. Consequently, they offer as much functionality as they do the freedom to multitask. Even slight distractions, like hardware, once removed can lead to more efficiency and better organization!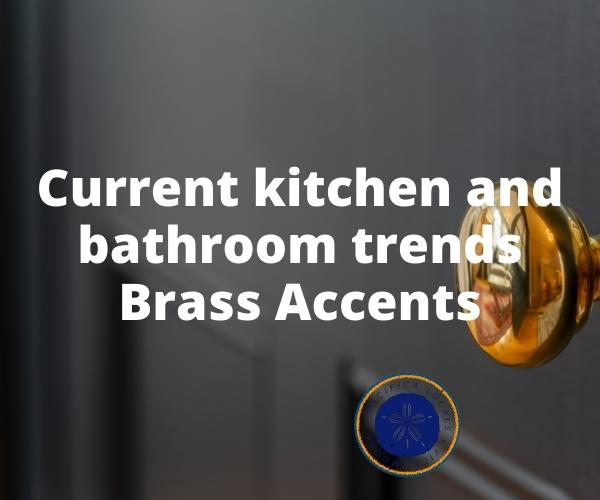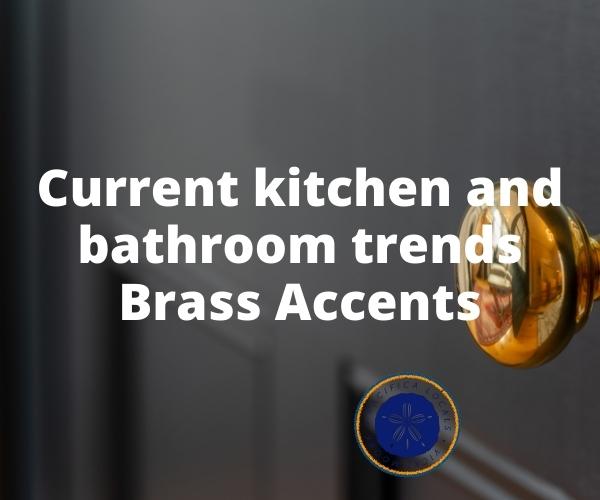 10. Brass Accents
Silver is the traditional accent color in many bathrooms and kitchen designs. However, stainless steel and nickel finishes are now being replaced with brass. The shift to brass accents has been long overdue since the exploration of darker hues in kitchen and bathroom designs began. Additionally, brass compliments mellow as well as chic tones. It looks quite elegant when paired with forest green or deep blues color schemes. It also has amazing transformative powers when used in finishes. Whether it is brass handles, pendant lights, or faucets, you will be amazed at the definition brass can bring to any room.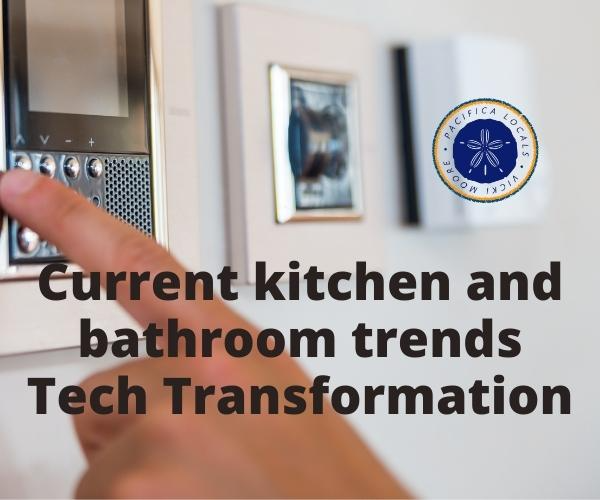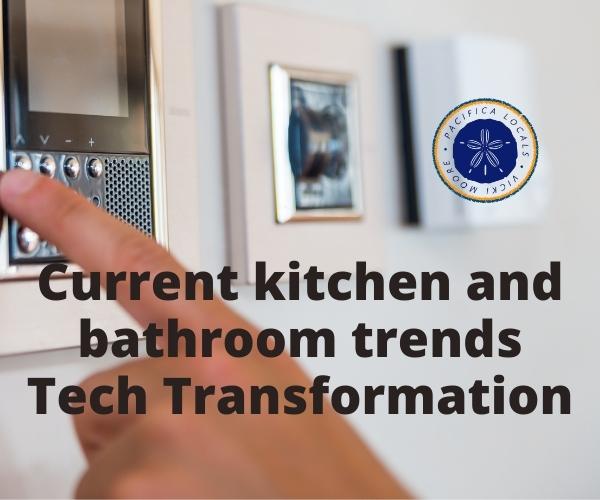 11. Tech Transformation
Gone are the days when technology was only limited to the communication and production industries. Smart homes are gaining popularity as people seek to automize simple and menial tasks at home to free up more time. In the kitchen, more attention is being focused on emergency options for powering refrigerators, video communication, charging stations, and wireless controls for kitchen appliances.
Also, faucets that limit water waste and home assistants in kitchen appliances are becoming more and more common. In the bathroom, smart controls for water conservation, remote-controlled floors/showers, and even motion-sensor lighting have been adopted. More technological advancements in bathrooms are expected in the near future.
12. Kitchen Size
L-shaped kitchens featuring a large island are in style now. Also, there has been a notable increase in kitchen sizes to accommodate this layout. The L-shaped layout is popular for many reasons. First, it offers a lot of flexibility in terms of kitchen design. Also, it shows vast adaptability in kitchens with different styles and sizes. It is also ergonomically superior when it comes to practicality and workflow in kitchens, especially for commercial purposes.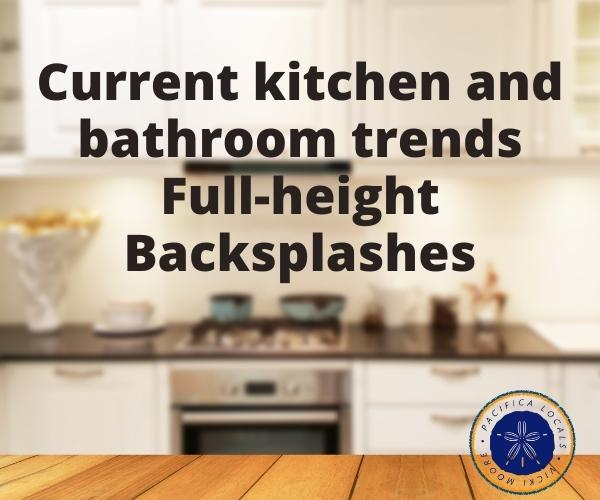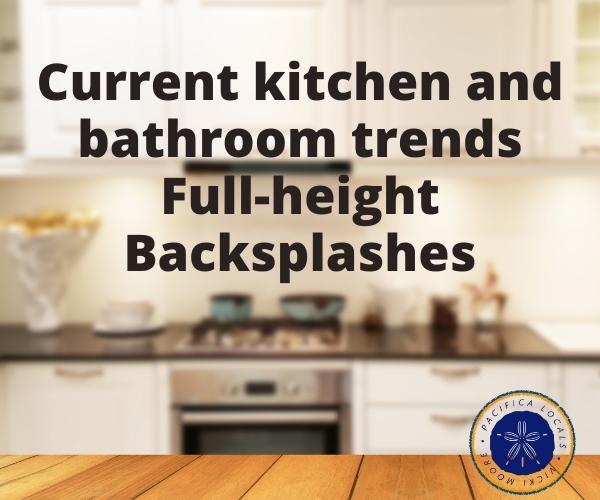 13. Full-height Backsplashes
Full-height backsplashes offer more coverage as well as a dramatic look. On the same note, they make it easier to clean without having to scrub the grout. Additionally, wiping splotches and splashes is hassle-free when the backsplash goes all the way up. This isn't just great in the kitchen but also in the bathroom. No one dreams of spending hours cleaning the bathroom or the kitchen after a tiresome day of work. Therefore, an option that makes the work easier is the most sensible choice.
Conclusion
New things, more oftentimes than not, are better which makes new trends more fun. However, don't just jump into these trends blindly. Find what works for you, not just now, but in the long term. When analyzing a design take note of the features you like and focus on them. Also, take your time to understand the design and its features before making the final decision.