Spending all that time stuck in our houses because of the year-long Covid shut-down, we've been doing a lot of cleaning out.  The problem is:  Now what do you do with all that extra stuff?
Pacifica Resource Center Grocery Programs
The Pacifica Resource Center is in need of food for their grocery programs:  Tuesday Groceries, PRC Pantry, Produce Mobile, Family Harvest, and Grocery Delivery. The average Pacifica household earns over $100,000 a year.  But because of the high cost of living, many families still struggle to make ends meet.
Rent and Mortgage Assistance
PRC has a lot of programs and is available when Pacificans are in need of help with their rent or mortgage and utility bills.
For Babies and School-Aged Kids
Their Baby Basics, K-12 back to school and summer program assistance will help with child-related expenses and baby basics.  Baby formula and diapers are incredibly expensive.  The staff have both on hand and can provide equipment on a limited basis.  Additionally, the back-to-school program offers backpacks and some school supplies.  Bus passes and summer camp scholarships are occasionally available too.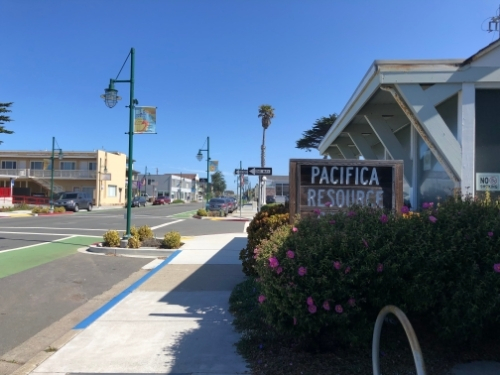 Tax Season and Money-Management Assistance
They provide free tax services, including e-filing.  Preparers trained on tax law and certified by the IRS are available during the tax season.
Get info on savings programs and financial coaching.  Pacifica Resource Center helpers will review your finances and help create a plan for saving and managing your money to meet your needs.
Pacifica Resource Center at the Holidays
During the holidays, the needs are great and the Resource Center is there to make Thanksgiving and Christmas special even during the most difficult times.  Safeway gift cards and groceries are available to allow families to have the things they need for a joyful Thanksgiving.
The Holiday Joy Gift Program is for families with children 17 and under. Children write a letter that includes a list of holiday gifts they would like.  Gift-givers who are eager to help make holidays extra special for kids are matched with families. They'll donate fun as well as useful gifts that kids have asked for in their letters.
The High Cost of Pacifica Housing
Housing in San Mateo is so expensive.  The Resource Center works endlessly to help individuals who are unhoused, living in a vehicle or those who are couch surfing.  Helping people get into a stable living situation, have groceries and a hot meal on a regular basis are just a few of their goals.
The friendly PRC staff will explore housing options and help put them in a position to be considered for a housing voucher to help pay rent.  They work with agencies to find out what's available and coordinate entry into housing programs, which are provided based on priority and an assessment of someone's needs.
In fact, they can also help Pacificans prepare for job interviews and other appointments.
Car Repairs and Registration, Bus Tickets, Taxi Vouchers
For example, they can help when a bus ticket or a taxi voucher is needed to get to a housing appointment, job interview, medical appointment, or other important meetings.  And, in some cases, they'll give out bus passes that are good for an entire month.
Car Repairs and Registration
Necessary car repairs as well as costs related to registering a vehicle get really expensive and fast too.  Nevertheless, Pacifica Resource Center can help those in need with auto costs to get to and from work or other critical appointments.
Medical Assitance for You, Your Family and Your Pets
There's a nurse available on Tuesdays for general check-ups, blood pressure checks and some vaccinations for adults.
Veterinary Clinic
PRC has a Veterinarian on-site every other month to help with your pet's physical check-ups and necessary vaccines.
Be sure to make an appointment for the Veterinary Clinic.  There's limited availability.
Where to donate clothing
The Pacifica Resource Center doesn't have room to store clothing donations.  They do, however, have some recommendations.
PARCA – Partners and Advocates for Remarkable Children and Adults
PARCA has been enriching the lives of of people with developmental disabilities since 1952.  They provide assistance through programs designed to help them live as independently as possible.
To donate gently used clothing, household items, baby items, furniture or cars, call 650-312-0725 for pick up.
CORA – Community Overcoming Relationship Abuse
CORA provides a safe place for survivors and their children to land in the worst of circumstances.  Sometimes they arrive with only the clothes on their backs.  Your donations of gently used clothing, baby items, new socks and underwear, call 650-562-0800.
Family Cross Roads Family Shelter
Family Cross Roads supports homeless and families and individuals on their path to self-sufficiency.  They would appreciate your donations of gently used clothes, baby and household items.  Call 650-994-8169.
St Vincent De Paul
Your donations of gently used clothes provides dignity and much needed resources to those in need.  Your generosity helps them provide free clothing and household items.  Call 650-373-0622 for pick up.