The Homeownership Dream is Alive
Homeownership is the ultimate goal for many adults, but not everyone can get there without a mortgage loan. With every payment you make, the loan balance reduces. This gets you close to clearing the debt and enjoying your investment. However, a short-term crisis or unforeseen occurrences like the ongoing coronavirus pandemic can destabilize you. That's why mortgage forbearance exists.
What is Mortgage Forbearance?
Mortgage forbearance is a reduction or temporary suspension of monthly payments by your lender. When you are faced with unexpected financial problems it is a lifeline.
Mortgage Forbearance During Covid
Mortgage forbearance applications hit the roof with the start of the Covid-19 pandemic. While some people were able to get back on their feet and continue with mortgage payments some haven't recovered and they are still in it. The
CARES Act
allows up to 1 year of forbearance and getting approved is quite easy. During this period, you aren't expected to make payments. However, it isn't a forgiveness program. You will have to pay back the owed amount at the end of the agreed period plus interest. In some cases, there will be an applicable fee.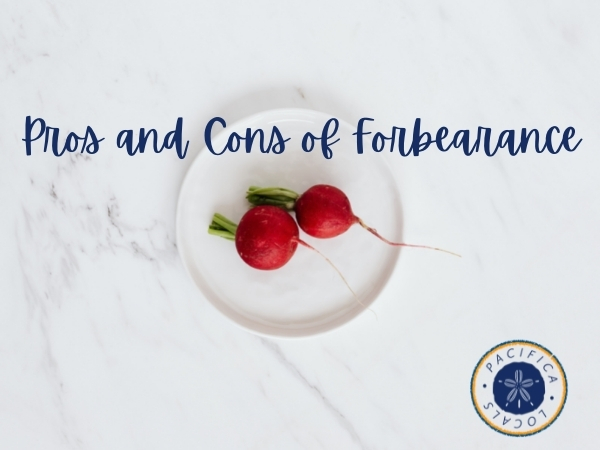 Pros and Cons of Forbearance
Forbearance is meant to protect homeowners from losing their properties during a financial crisis. However, it can be a difficult decision, especially if the future looks uncertain. Understanding the pros and cons of applying for mortgage forbearance can put you at ease and help you make a wise decision.
Pros of Forbearance
1. Gives you time to deal with a short-term financial crisis
Once your mortgage forbearance application is approved, the mortgage payments will be suspended or reduced for the agreed period. During this time you can secure a new job or find another source of income. By the end of the period, you'll be in a better position to pay back the missed payments and get back on track.
2. Saves your credit score
Mortgage forbearances do not affect your credit score since they won't be reported as missed payments. Damaging your credit score will have a negative impact going forward. Your borrowing options will be limited if you have a bad credit history and that's not a situation you want to be in when you are already going through a financial crisis.
3. You are protected under the CARES Act
For homeowners in the United States, the CARES Act offers protection for mortgages that are federally backed. Additionally, you won't be required to provide proof of hardship to qualify for forbearance. However, the lender may require you to answer some questions regarding the financial hardship you are facing before the application is approved.
4. Saves you from foreclosure
Not applying for forbearance may lead to a foreclosure if you have missed several payments. Often, this is followed by bankruptcy. In such cases, the damage to our credit score will take years to fix.
Cons of forbearance
1. Limited options for those who wish to refinance
Refinancing can make things better for you
if you get an option that offers lower interest rates or reduced monthly payments. However, you may not be able to
refinance
for some time after the forbearance. (Check with your mortgage company.) This can make things worse if you are still struggling to make ends meet.
2. Higher payments after the forbearance period
To catch up with what you missed during the forbearance you may have to increase the monthly mortgage payments or extend the mortgage period. Some lenders may even require to be paid the deferred amount in a lump sum.
3. Possible negative impact on your credit score
Forbearance is meant to protect your credit score. However, creditor penalties can still happen if the lender gives credit bureaus your account information. The record should be wiped clean once you start making regular payments. Nevertheless, mistakes can happen and you'll have to watch your credit score closely during and after the period.
What if I change my mind, how do I get out?
Your financial situation can get better faster than you expected. Since a mortgage forbearance isn't a forgiveness program, you should resume making the payments as soon as you can. If you change your mind about the forbearance and want an out you should inform your service provider. The agreement will be updated and the accrued amount plus interest calculated. However, you won't be penalized for making payments even while in forbearance. Thus, do it whenever possible. It saves you from high interests and any associated fees at the end of the period.
Will forbearance affect my credit?
Skipping mortgage payments or not submitting the entire amount will be considered delinquency if there is no forbearance agreement. Delinquencies will go on your credit report. With a mortgage forbearance, the lender should not pursue foreclosure proceedings or report the missed payments to credit bureaus. On the other hand, a foreclosure will reflect on your credit history for seven years since the first time the delinquency was reported. You can avoid being reported to credit bureaus by applying for mortgage forbearance. This safeguards your credit history. To avoid getting bad credit you should apply for forbearance early. Don't wait until you have missed several payments to apply because your credit will have taken a hit already.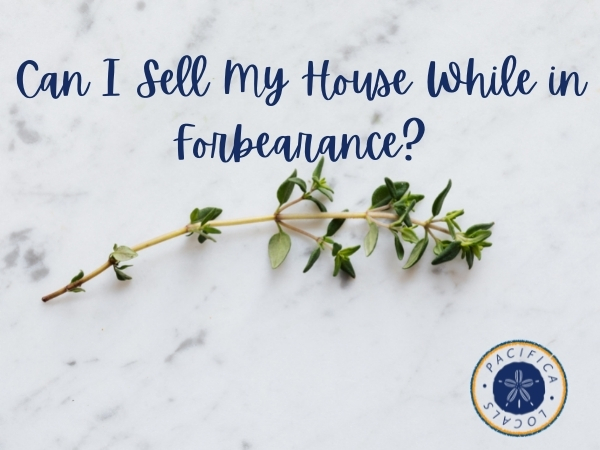 Can you sell your house while in forbearance?
Even with forbearance, you may not have fully recovered financially at the end of the agreed period to resume paying the mortgage. Selling the property can bring in enough money to pay off the mortgage loan and even put a downpayment on a smaller house that you can afford or perhaps go back to renting. Forbearance agreements don't restrict you from selling your property. It is easy to sell the property if you owe less than the property value. In case what you owe the lender is more than the property value, you can request the lender to agree to a short sale. A foreclosing process is quite expensive and most lenders will accept a lower amount rather than go through foreclosure since it will cost more. A short sale may not affect your credit score if the lender reports that the mortgage was fully paid per the agreement.
Should I sell my property in forbearance?
Just because you can sell your property while in forbearance doesn't mean you should. However, selling is the better choice in some cases, and knowing when to sell can get you out of the crisis faster.
Selling may be the better option if:
1. You can't afford the mortgage payments after the forbearance period
You get a maximum of 12 months of forbearance. Once the period lapses, you'll have to repay the sum owed and the accrued interest. The amount doesn't have to be paid at once but this means that the monthly payments will go up. It will be a great burden if your financial situation hasn't gotten better. Thus, selling the property will allow you to repay the mortgage in full and avoid foreclosure. However, don't wait until you have run out of time to sell.
2. When downsizing is an option
You can always downsize until your financial situation improves. Moving to a smaller house may mean lower monthly payments. Selling your house while in forbearance can enable you to repay the mortgage and even buy a smaller property. It can be hard to get back on your feet when you are still struggling with high monthly payments.
You can move
to a bigger home later when you can afford it without straining financially.
3. Better opportunities elsewhere
Many people end up in a financial crisis due to job loss. Securing a new job can bring in regular income. If this is your current situation you might be surprised how many job opportunities there are out there. Find a new job could be a really good thing to consider. However, the new job might be miles away from your current location. If you are self-employed or able to work from home you can even move to a new state or city that has a lower cost of living. They are perfect for someone looking to start over on a tight budget. Financial hardships can come up any time and while some people will bounce back quickly, some may never get back to where they used to be. It's important to come up with a new plan to get you back to where you were financially – or even better – as quickly as possible. You need to find workable solutions to the problem. The solutions should be geared towards lessening your financial burden without affecting your credit score. Forbearance gives you time to regroup and find a lasting solution. Forbearance isn't your only option. Be sure to research all of your alternatives, including
bankruptcy
.
Final Considerations
Finding the right solution for your situation may take some time to research. Talk to both your mortgage lender and tax person to determine what the ramifications are to each decision. Government programs offering benefits from the Covid crisis change regularly. Be sure that you're always referencing current, valid information before you make a final decision.
What Should You Do When the Forbearance is Over?
You should
understand the whole forbearance process and ramifications
before you do decide to go ahead with it.
Paul Sian of Cincinnati | Northern Kentucky real estate offers more information on the forbearance process
.
---
The above real estate information, Can I Sell My House While in Forbearance?, was provided by Vicki Moore, Mid Silicon Valley Realtor. I can be reached via email at vicki@callvicki.com or by phone at 650-888-9268. I have helped people move in and out of San Mateo County since 1998.
Are you thinking of selling your home
? I have a passion for selling homes and loves to talk real estate! I provide real estate sales assistance in the following Mid Silicon Valley cities: Pacifica, Montara, Moss Beach, El Granada, Half Moon Bay, Burlingame, Millbrae, Daly City, San Mateo, Foster City, Redwood City, San Carlos, and Belmont.