Top 11 home improvement trends have changed in the past few years.  Creating a comfortable home has always been a priority for many people.  It became even more crucial during the pandemic. With many people having to stay indoors for months, the need to find new approaches to relaxing, working, and even entertaining indoors became essential.
Demand for bigger homes in the suburbs went up dramatically during Covid.  Many people ran away from crowded cities in search of more space and cleaner environments. Home improvement projects that aimed to expand and improve personal space became popular. However, this created a disparity in the demand-supply chain for home improvement products.  That disparity forced many people to find alternative ways to customize their homes. Currently, some of homeowners' favorite home improvement trends are: 

1.  Outdoor Kitchens
Home improvement projects that focus on the outdoors have been trending for a while now. There was a significant increase in the number of people undertaking these projects during the pandemic thanks to the limitations on movement. Being forced to remain indoors for extended durations of time made people realize the importance of outdoor spaces. 
Given that the kitchen is one of the most used rooms in the house, the increased demand for outdoor kitchens was expected. Therefore, it isn't a surprise that the expenditure on kitchen remodeling projects went up during this period.
The need to entertain and enjoy the outdoors while maintaining the recommended social distancing made outdoor kitchens the ideal spot for all entertaining. Due to changing needs, outdoor kitchens are no longer limited to a grill and a picnic bench. They are now fully functional spaces where people can prepare complete meals and entertain without rushing indoors to grab supplies. 
Outdoor furniture is a must-have to complete your backyard paradise. There are so many choices!  Endless styles, colors for every purpose.  Whether your furniture is for dining, minimalist or modern, you'll need a plan to know where to begin.  Starting with the size of your space is a good beginning.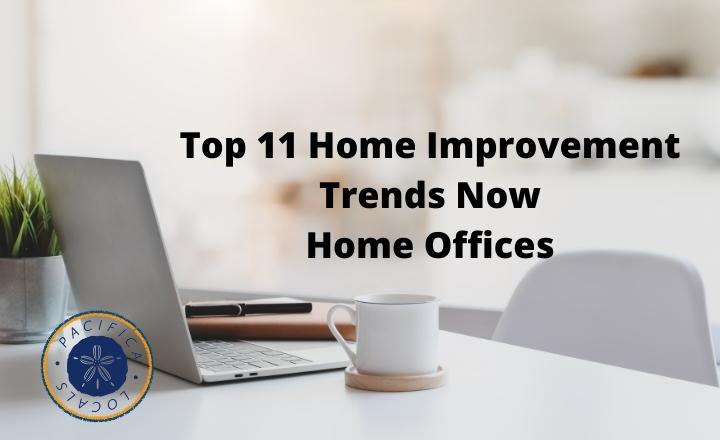 2.  Home Offices
Some have gone back to working in traditional office.  But a considerable percentage of the working population is still working remotely. With many companies allowing employees to work from home, this trend is here to stay.
Anyone planning to work from home permanently needs an ideal working space. That's why the demand for home offices rose significantly. Endless virtual meetings are exhausting and it's even worse when you have to keep setting and removing backdrops.
Additionally, the room setting can affect energy and productivity which makes a dedicated workspace crucial. Home offices are designed to boost motivation, focus, and productivity. Also, they allow the addition of permanent high-tech solutions essential in everyday work life like projectors and smartboards which makes your work easier.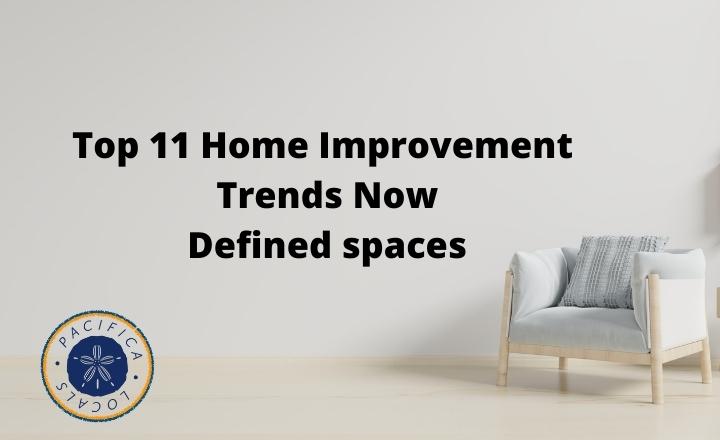 3. Defined spaces
Many people were okay with open floor plans before the pandemic.  In fact, it was what everybody wanted.  But they were rarely at home where they had to be in the company of everyone in their household all the time. More time was spent working or out with friends. However, with the transition to working remotely, this is no longer the case.
Defined spaces shape the character of the room. Spending a lot of time in an awkwardly planned home affects your ability to relax or be productive in whatever you set out to do. That's why defined spaces are essential and preferred more now than ever.
For people who love entertaining, organized living rooms make it easy to plan indoor parties on a whim. Family rooms are now back in style. And so is the need to decorate them in favor of that. Defined spaces that are furnished, depending on their purpose, will make your life easier. 

4. High demand for smart home technology
Most of the people buying homes now are millennials who are conversant with technology and aren't afraid to explore all it offers. That's one of the reasons why the demand for smart home technology has risen.
According to research, there has been a steady increase in the demand for smart home technology over the past six years. The common updates homeowners want included are lighting fixtures, home security, entertainment features, and climate control systems. Having complete control of your home at the touch of a button is quite convenient, especially for people with demanding careers.

5. Better outdoor spaces
Spending time in nature reduces stress levels and boosts health. However, you don't have to live next to the Amazon forest to enjoy it. Outdoor living spaces offer the same benefits. They should be functional as well as being aesthetically pleasing. Adding features that reduce the need to go back indoors encourages you to spend more time in these spaces. Also, it is important to erect barriers that protect you from harsh weather elements. Awnings, outdoor kitchens, durable outdoor furniture, and fireplaces are some of the most pleasing features of better outdoor spaces.
Outdoor showers have also become a big part of outdoor living spaces. Just like the indoor showers, their technology allows you to control the water temperature and flow. Thus, they can be used in any kind of weather. Also, their style and decor complement the outdoor living style.
Outdoor furniture has also changed for the better with the introduction of better raw materials which produce more durable and elegant pieces. Additionally, finer options in outdoor fireplaces and entertainment features have been a game-changer in outdoor living.

6. Texture
Spending much time indoors has forced people to take a keen interest in their surroundings. Because no one likes living in a boring house, homeowners are eager to add texture to their homes. Texture gives the environment a soul making people enjoy it more. Thus, boring drywalls are no longer the norm.
Faux brick walls have also become a favorite when it comes to adding texture. When properly installed you can't even tell the difference. Faux products can mirror various materials like marble, Venetian plaster, or even concrete.
Additionally, wallpapers and some paints are also resourceful in giving a textured look. Fabrics can also be used to give a textured outcome. Not only are they soft to the touch but also make a home feel warm and inviting. Additionally, they are the most convenient choice in bringing out your character and style in interior decor. 

7. More windows
Not everyone is lucky enough to own a house with an expansive yard. Thus, finding alternatives to bring the outdoors in is essential. Increasing the number and size of windows is one of the best alternatives in bringing the outdoors in. More and more people are doing away with traditional doors, windows, and, when possible, entire walls in favor of oversized glass windows/doors. Skylights and floor-to-ceiling windows also give the same outcome. The goal is to have unobstructed views of the outside environment from every room in the house. This trend is a big hit in big cities with pristine weather, especially among the affluent population.

8. Spa-like bathrooms
Multiple bathrooms offer a flexible and favorable environment, especially in big households. The bathroom is the only private place many people can use to decompress without being disturbed. Managing a household is tough.  No matter how much you love your family or children, if you don't rest you'll get burned out. Rest, even for a few minutes, does wonders to the body and mind.
A beautiful private bathroom can be your saving grace. Also, with travel restrictions and many spas and wellness centers closing it is hard to get an appointment anytime you want some alone time. However, having a luxurious bathroom at home solves this problem. This is why many people are remodeling their bathrooms. Luxury means different things for different people. Thus, customize your bathroom to suit your needs.

9. Landscaping
Landscaping is a great way to define outdoor spaces. Defined outdoor borders also make it easy to change flowers and plants depending on the season. Additionally, they direct movement around the yard and make the environment colorful. They also make it easy to blend natural materials like wood and stones into the landscape.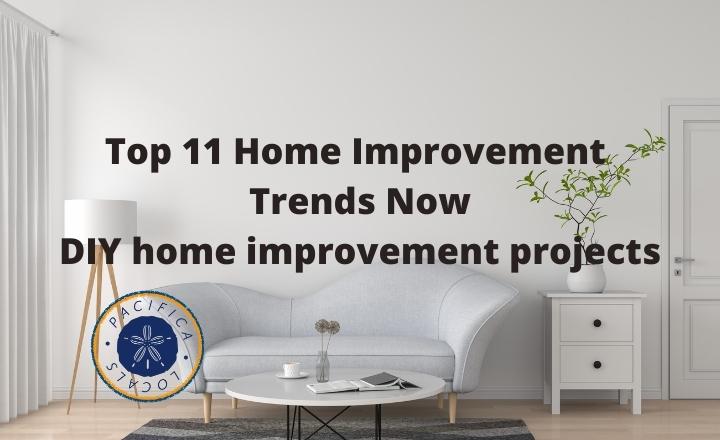 10. DIY home improvement projects
Working remotely has left many people with enough time to spend on DIY home improvement projects.  Besides ample time, the need for better aesthetics, improved functionality, and ROI are the other driving forces behind this trend.
A good percentage of millennials are now homeowners and their prowess in using technology has served them well in carrying out DIY projects. Youtube and other online home improvement channels offer detailed yet simple guidance on how to carry out these projects.

11. Going green
Green is the color of nature.  The more you incorporate it into the indoor environment the better the outcome. Even though indoor plants were popular before the pandemic, the addition of greenery scenery indoors increased during this period. Natural scenery makes a space comforting and fresh. Simple things like decor and indoor plants can be used to achieve this. More proactive ways of going green that are trending now include the use of reclaimed materials in DIY projects.  Recycling, use of sustainable energy, and water conservation are a popular focus for home DIYers.
More people are also using organic products and harnessing natural light to lower energy consumption. It's great to see more people interested in conserving the environment and finding ways to lower their carbon print.
Home improvement projects are the easiest way to customize your living space as well as increase your property value. Looking at the current home improvement trends it is hard to deny the influence the pandemic has had in the emergence of these trends. However, consider your needs and what you can manage before jumping in on any of these trends.
---
Welcome to the Pacifica Locals Real Estate Blog! This real estate website, as the name suggests, is all about generating the dominating the online exposure that your home deserves.
Vicki Moore of Compass has been working in the local market since 1998. She is a veteran to the real estate industry with expertise in technology, marketing, and social media.
If you are thinking of selling a home, condo or other real estate in the following towns: Pacifica, Half Moon Bay, Moss Beach, Montara, El Granda, San Mateo, South San Francisco, Daly City, Belmont, San Carlos, Burlingame, Millbrae, Hillsborough, Foster City, Redwood City, and Redwood Shores there are thousands of Realtors to choose from.
It doesn't cost anymore to work with a top producing realtor. We would welcome the opportunity to show you how we get outstanding real estate results. If you are looking for a top real estate agent who will make a difference you have come to the right place.