If you sell your rental house it's a bit different from selling your primary home. This not only makes the process a bit complex but also intimidating. You will have more hoops to jump through if you have sitting tenants. However, it is still your property and you can sell it even with the tenants living there. You only have to know how to handle the process legally to avoid complications along the way.
Can I sell my rental property with tenants in it?
Legally, yes, you can sell your rental house even with tenants in it. However, the rental or lease agreements should not be taken for granted. In most states, the tenant has the right to remain in the property during and after the sale as long as the lease agreement is in effect. Fixed-term leases are still legally binding even when a rental property is sold. In such a case, they are transferred from the seller to the buyer.
Should I sell my rental property with tenants in it?
This will be determined by your current situation. Think about the quality of the tenants when selling your rental house, the condition of the property as well as your motivation to sell. If the tenancy agreement is not up you may have to buy out the tenants or wait until the lease is up. This may affect your financial plans and also your future plans. Consider the options you have and the kind of effect they'll have on your life and finances.  Then decide whether going ahead with the plan to sell your rental house with tenants in it is still a good idea.
I've sold a couple of properties with tenants living in them.  They were difficult and time-consuming.  If the market at the time hadn't been so good we would not have faired well.  The tenants could have completely destroyed the seller's chance to get the highest price.  Initially, the tenants were cooperative and happy.  But it didn't last in either sale.  In one, the tenants were going to be given a bonus if they cooperated with the sale.  They were highly motivated.  At least it seemed that way.  On the day of the open house, they wouldn't let me in.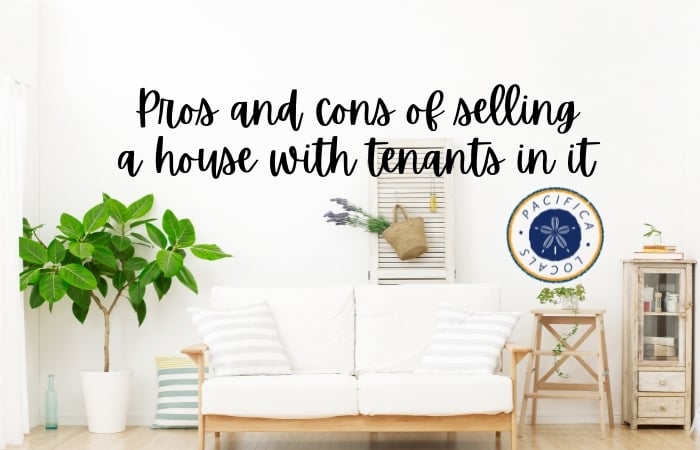 Pros of selling a rental property with tenants
Vacant properties are likely to be targeted by thieves ad vandals compared to the occupied ones. Therefore, if the property has tenants you won't have to worry about vandalism or damages that might reduce the property value before you secure a buyer.
Even if you don't find a buyer right away you will still be getting the monthly rents from the tenants. One disadvantage of selling vacant properties is the cash flow disruption before finding a buyer to sell your rental house to. Also, the tenants will be paying for utilities which would otherwise be your responsibility if the property was unoccupied.
Investment buyers love occupied rental properties because it saves them the hassle of having to find new tenants, screen them, as well as negotiate the lease terms. The buyer will also start enjoying rental income the moment he assumes ownership which is a big win.
Cons of selling a rental property with tenants
A long-term lease is a big win if the buyer wants to continue renting out the property. However, if he wants to live in it or work from there once the deal is closed, then it will be a problem. He/she will have to wait until the lease is up or buy out the tenant which can be costly.
The state of the property
Not all tenants care about the condition of the property. Some of them even degrade the property further through their carelessness. The damages can be significant to the point of reducing the value of the property or even adding unwanted expenses.
Showing property to prospective buyers with tenants occupying the property can be a problem.  Showings will have to be planned around the tenants' schedules. The convenience of the tenants will matter.  If showings are limited too much it will affect the number of buyers who will get into see the property.  If you breach the lease terms and conditions you're going to have legal problems when you sell your rental house. Also, you need their cooperation in planning when to show the property. On the contrary, a vacant property can be shown at any time.
When should I sell my rental property?  When you have a better source of passive income
Rental properties are a great source of passive income but they are not the only option. A real estate investment trust, stock market, and even bonds may be a better source for your particular situation.  If you find a better passive income opportunity you may consider selling your rental house.
A major event in your life like expanding family, a financial emergency, or even health issues may force you to take drastic actions. You may need to sell your rental property to get liquid cash fast. Getting a loan against the property is also an option.  Depending on the real estate market where you are located, you may get the cash faster with a home equity line of credit. 
You can no longer manage the property well
A new job or relocation can leave you with less time to handle the maintenance of the property and other responsibilities of being a landlord. If the money you are getting from the rental property isn't worth the hassle then you might consider selling your rental house.
Having a local property manager may be the right choice for you.  A property manager will take care of collecting rent and middle of the night calls for broken appliances.  They can inspect the property on a regular basis.  That way you don't have to make the effort to travel and expend the funds to view it yourself.
It can be unnerving to go through the process of selling your rental house with tenants but it is doable. If you find a cash buyer or even a local investor then that will be simpler and quicker. A real estate agent has many, many connections and may be able to help you find the right buyer more quickly than you could by yourself. It is advisable to maintain a good relationship with the tenants in the process. Their cooperation will make things less difficult for you.  Just have a Plan B in case they decide at some point not to be cooperative.
---
The above real estate information, How Do You Sell Your Rental House?, was provided by Vicki Moore, Pacifica CA Realtor.  Pacifica is on the coast of Northern California.
I can be reached via email at [email protected] or by phone at 650-888-9268. I have helped people move in and out of San Mateo County since 1998.
Are you thinking of selling your home? I have a passion for selling homes and loves to talk real estate!
I provide real estate sales assistance in the following Mid Silicon Valley cities: Pacifica, Montara, Moss Beach, El Granada, Half Moon Bay, Burlingame, Millbrae, Daly City, San Mateo, Foster City, Redwood City, San Carlos, and Belmont.